Whither law & order in Sri Lanka since 2015
Posted on March 11th, 2016
Shenali D Waduge
Prior to January 2015 the propaganda was directed at 'white van kidnappings' but names of the kidnapped kept conveniently omitted. Fear psychosis propaganda sufficed. Lack of a police commission became the reason for all ills. Now even after the establishment of a police commission the citizens of Sri Lanka are awestruck by the complete failure of law & order in Sri Lanka. Rapes, murder, return of thugs, goons and the underworld, and errant ministers knocking people on the roads have become every day experience for people and neither the UN, foreign envoys nor even human rights groups are bothered to highlight the status quo.
Rape – police say 80% of rape victims in 2015 were below 18 years. 1854 rape cases reported in 2015 of which 1501 were females. https://www.youtube.com/watch?v=-3hcw8q-ygA
Rape of children – rape of teenage girl in Kayts,
Revenge killing – 10year old boy in Athurugiriya
Rise in robberies – mostly drug-related crimes, bank heists – Kekirawa, Dambulla, Pasyala, Gelioya town Peradeniya, Piliyandala
Teenagers in possession of firearms – Kalutara
Rise in road accidents & fatalities – Five presidential Security Division (PSD) officers were killed and several others injured when a defender vehicle and two private buses crashed – See more at: http://www.dailymirror.lk/86791/four-psd-officers-killed-several-injured-in-accident#sthash.DTN2D5MY.dpuf
Illegal immigration on the rise – Sri Lanka's cannot give even an estimate of the number of illegal immigrants in the country most of whom are arriving from India and remaining without going or arriving on tourist visa and even engaged in employment.
Bribes/corruption – numerous police, principals and even state officials have been caught for corrupt practices including bribe taking. How has this been tackled?
Arrest of Buddhist monks – the targeted arresting of Buddhist monks and the emphasis on elephants while ritual/animal sacrifice takes place questions the real objective and seriously makes any to wonder whether the real motive is to gag the Buddhist priests from defending the nation has had historically happened and the removal of elephants from the Buddhist religious pageants carrying forward the objective from the time of colonial invaders to destroy Buddhism and its reach amongst the majority populace.
Sri Lanka a hub for drug trade Sri Lanka is a now a transit point for drugs coming mostly from Pakistan, Afghanistan and India headed to Europe and beyond. Heroin is smuggled into the island in sea containers and fishing boats. The use of ATS, including methamphetamine and MDMA (ecstasy), and of other synthetic drugs, such as LSD and ketamine, is reportedly on the rise
175 underworld gangs now operating in Sri Lanka – what must be clearly stated is that most of these gangs had fled the country and were living overseas and returned after January 2015 and questions who are patronizing them. Is it not because the scale of crimes associated with the underworld has risen to drastic climes that the Special Task Force has been called in to deal with the menace. But how many of these gangs have political patronage. It is strange that the local and foreign upholders of human rights are mum now on collapse of law & order when under the previous government even if a dog was knocked down a statement would be issued by the UNHRC head. The behaviour of the international community became such a laughing matter at that time and now their silence highlights the hypocrisies that prevail when inspite of the lawlessness the UNSG is issuing statements on how wonderful Sri Lanka is.
Government crimes not investigated :Rs 2billon loss from Central Bank Bond scam (insider trading), how all of a sudden the case against Finance Minister was dismissed on technicality, no action against Govt MPs bashing up people, knocking them down on the roads, inaction on rape of forests (Wilpattu) by Government MPs, sale of lands to foreigners without any restrictions or checks & balances, pretext of returning lands to IDP when these IDPs never owned land and whether they are Sri Lankan natives is being questioned. Note LTTE said 33% of its cadres were from Tamil Nadu.these people are not entitled to land or homes in Sri Lanka.
Democracy a farce : organizations/individuals whose objective is to create a federal structure is given the task of drawing consensus for a new constitution! The citizens of the country must seriously question how governments that are elected for a term of office can change a country's constitution as soon as they come to power influenced by those that backed them to come into power. We cannot have a situation where every time a government is formed a new constitution gets drafted. The PM is misusing parliamentary privileges to call people pimps, donkeys, gypsies, monkeys and beggars and laughing at his own jokes while his party joins in. It now appears the journalist that the entire world has been mourning for and doling out money is not even a journalist! What a laugh this has become! Not a single person is highlighting the dictatorial situation in how the country is being governed. A UNSC Resolution banning LTTE fronts was simply removed without any solid reasons given and questions the legalities of these decisions.
West's discrimination: The illegality of the UN panel of expert report, subsequent resolutions and actions are yet to be investigated & yet the govt is agreeing to hybrid courts when even the FCID's legality is being questioned in court. The recent EU job advert displays the level of racism and discrimination prevalent where Sinhalese are marginalized openly through paid advertisements. We are unnecessarily antagonizing powerful nations. A former President recently referred to the gift by China as resembling a toilet commode little forgetting that it is only this country that has gifted Sri Lanka with monumental buildings to honor their strong ties and relationship with Sri Lanka. Can she name a single free building that we have got from UK, US, or India?
Justice : a good look at the arrests that have taken place since January 2015 it is clear that these are all politically motivated and directed at silencing political opponents and their supporters. The government that accused previous MPs of crimes are now in government holding portfolios when the people did not even vote for them. No foreign or local body have even complained about this. Investigations, arrests are taking place only for opposition MPs but none of the crimes committed in the past by MPs in government are being even investigated. This becomes a mockery of justice as anyone is innocent until proven guilty and arrests must take place with evidence not arresting people and then searching for evidence. These actions make us a laughing stock globally and eventually good investors will walk away while con-investors will come enjoy all the tax breaks/holidays and then make off with the profits.
A Buddhist priest is arrested. Is looking after an elephant the only crime taking place in Sri Lanka?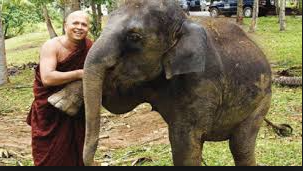 Isnt helping terrorists/terrorism and separatism a bigger crime?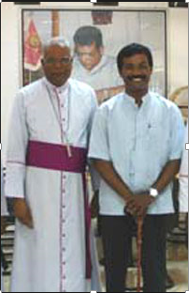 https://www.tamilnet.com/art.html?catid=13&artid=15499 Rev. Dr. Kingsley Swampillai, Bishop of Batticaloa and Trincomalee, Rev. Dr. Rayappu Joseph, Bishop of Mannar and the Rev. Dr. Thomas Savundranayagam, Bishop of Jaffna met with LTTE's Pollitical Head Mr. S. P. Thamilchelvan in Kilinochchi (July 2005)
http://www.defence.lk/new.asp?fname=20060703_04
http://www.chrsrilanka.com/_Mannar_Bishop,_TNA_resurrect_LTTE%E2%80%99s_ISGA_demand______-5-3267.html (Mannar Bishop Rt. Rev. Rayappu Joseph and a group of Tamil MPs and civil society representatives have reportedly urged a group of visiting Indian Parliamentarians to press the Sri Lankan government towards establishing a self-governing mechanism for Tamils in the North and East.)
http://www.defence.lk/new.asp?fname=The_Devils_Advocate_A_response_to_Rt_Rev_Rayappu_Josephs_letter_to_Australian_Government_20121506_11 Rt. Rev. Rayappu Joseph is one such controversial character who is being working hard to promote LTTE separatist agenda. His actions and utterances have come under criticism by one and all.
We suffered 30 years of terrorism. No UN or foreign body provided solutions throughout these 30 years to end terror. All of us – Sinhalese, Tamils, Muslims and even foreigners were victims of LTTE terrorism/separatism. 4 Presidents did not provide a solution to end terrorism. The 5th President did with the support of the armed forces, police and civil defense force and we have been enjoying peace that other nations of the world do not have as their countries are plagued with terrorism. We can walk out of our homes without fearing bombs, suicide missions and LTTE attacks. Those that openly and indirectly supported LTTE are still out there and these people are today coming out with more venom promoting their ideology in a different song. The separatist ideology has not been eliminated and this is why lawlessness continues to prevail because these elements are the one's now indirectly influencing the country. It is time locals and foreign players not party to this open their eyes once and for all
Shenali D Waduge