APCU award conferred on writer-journalist Anuradha Sarma Pujari
Posted on April 30th, 2016
Nava Thakuria
Guwahati: Assam Press Correspondents' Union (APCU) observed its foundation day at its newly opened office on Saturday and honored popular Assamese writer-journalist Anuradha Sarma Pujari for her contribution to the local media. Earlier the new office of APCU at Bhetapara locality of the city was inaugurated by distinguished journalist Ajit Kumar Bhuyan in presence of APCU members & well wishers. The city based Dispur Hospitals also supported the organization with Hepatitis-B vaccination program for its members on the occasion.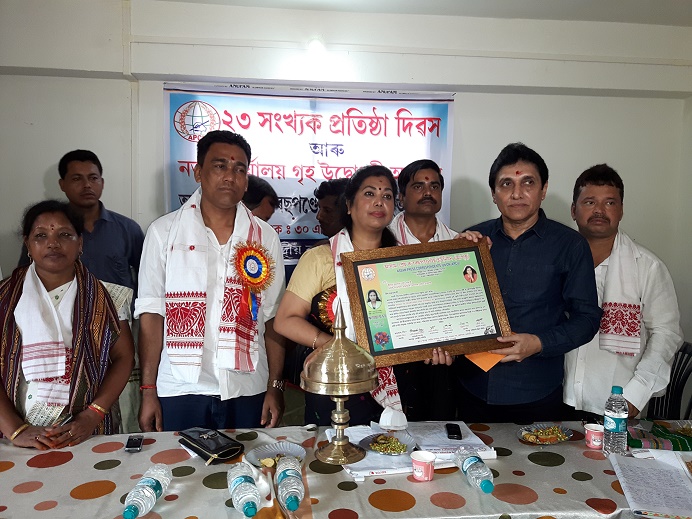 Speaking on the occasion, Author Anuradha appreciated the initiative taken by the APCU to empower the rural reporters of the State for more than two decades. The editor of Sadin & Saatsori also expressed happiness that the Ritamala Dutta memorial award conferred on her would inspire the women journalists of the region to dedicate more time, energy and space for the growth of the media.
Addressing the meeting, presided over by APCU president Manoj Singh, the chief editor of Parg News Bhuyan highlighted various challenges in front of the media fraternity and also encouraged them to pursue critical journalism with a missionary zeal.
Inaugurating the Hepatitis-B vaccination camp, in presence of Dispur Hospitals' official Ujjal Saikia, journalist Nava Thakuria emphasized on creating more health awareness among the media persons. He also opined that the overall health of journalism and also the physical health of working journalists were the matter of equal concern.
Social worker Akan Saikia, who donated the office to the APCU,  a number of APCU  office-bearers including secretary general Hemanta Saikia, working president Mousam Jyoti Baishya, adviser Sobhit Chetri with few others also addressed the meeting.