Sinhalese for Donald Trump – Tamils for Hillary Clinton
Posted on February 9th, 2017
Shenali D Waduge
Having not made any breakthrough to appease the Gods to make Hillary Clinton the US President by dashing 1008 coconuts, the LTTE Diaspora are frantically trying to somehow wriggle their way into the Trump Team doing what they know best – using money and lying. That was how they managed to rope in Hillary Clinton who went out of her way to speak on behalf of the internationally banned terrorist organization LTTE compromising the US state policy and relationship with a sovereign nation. The majority Sinhalese in Sri Lanka urge President Trump and his team to relook at banned terrorist LTTE and the LTTE diaspora who are lobbying governments and officially using illegally acquired monies.
The US designated LTTE as a foreign terrorist organization in 1997.
Tamils for Clinton run by Andez Raj has its own website – http://tamilsforclintons.com
Tamils for Clinton even released a book titled 'The Trump Card' by Rajeev S. Sreetharan. The book covers how America will suffer from Trump's presidency due to his unpredictability, sexism, hatred towards immigrants, blatant lies and, his psychological volatility. http://www.einnews.com/pr_news/347283202/tamils-for-clinton-new-book-reveals-trump-s-presidency-will-be-ceased-by-constitutional-crisis-dictatorship-hatred
Tamil spokesman for Tamils for Clinton stated, "Watching Mr. Trump on his campaign trail, we have witnessed his manipulation of domestic and foreign policies, his lack of knowledge of constitution and his display of unprecedented narcissism which would disqualify him from becoming president of the United States of America." The Tamil spokesman believes that "every American should read this book before going to the polls on November 8, 2016"
A quote from the book should interest President Trump.
Mr. Trump is inexperienced, untested, and psychologically volatile.
Mrs. Clinton is the wife of former President Bill Clinton, the former Secretary of State of the Obama administration, and for better or worse, is a vetted, tried, tested, safer, and an electable presidential candidate who presents known, familiar risks."
The Tamils for Clinton also had its own facebook account https://www.facebook.com/Tamilsforhillary/ (A photo of Hillary Clinton was accompanied by the Eelam flag and terrorist leader Prabakaran)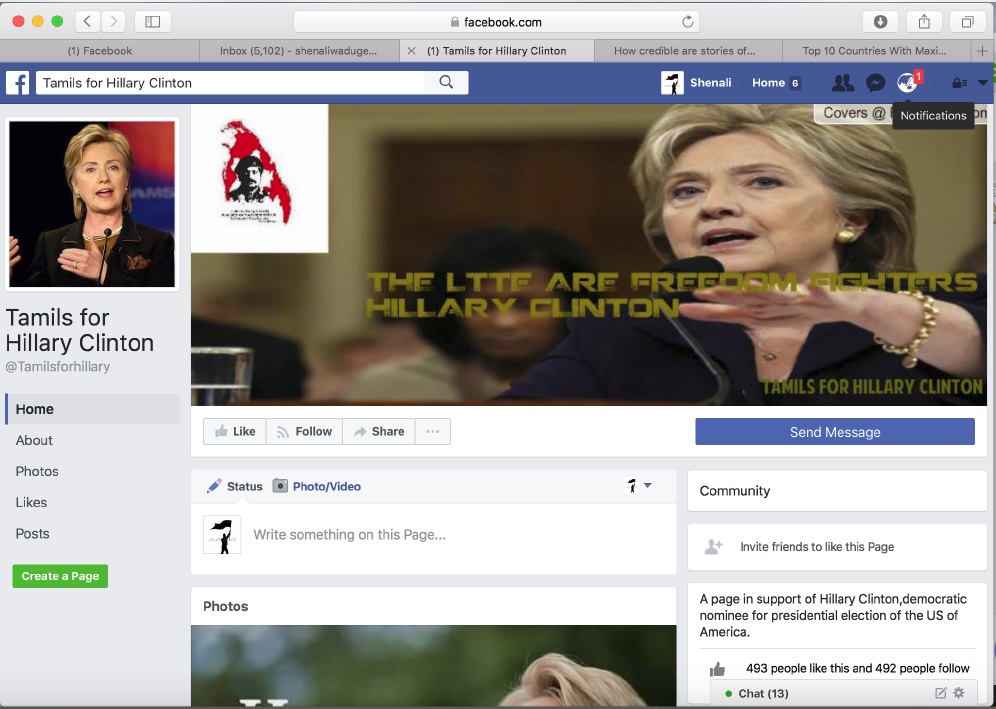 The facebook account features an interview with some Tamil organisations that are campaigning for Hillary Clinton
http://www.sbs.com.au/yourlanguage/tamil/en/content/us-presidential-election-2016-democratic-party-candidate-hillary-clinton?language=en
Coincidentally the head of one of these groups, Dr Elias Jeyarajah is the Vice President of the advocacy group, USTPAC which is now trying to wriggle up to the Trump campaign team and influence and fool them too. Just look at how they are twisting their former line – https://ustpac.org
He was also part of the team that met with former US ambassador Robert Blake – https://dandelionsalad.wordpress.com/tag/robert-blake/ 
Alastair Reynard claims Dr. Elias Jeyarajah, a Tamil terrorist in the US, contributed $500 to the North Carolina Democratic Party, 2007 Fourth Quarter. Second Quarter 2008 he contributed $1,500 to Hillary Clinton campaign. Third Quarter 2008 Jeyarajah contributed $1,565 to the Obama campaign." http://www.lankaweb.com/news/items/2009/09/14/re-sri-lanka-guardian-panders-to-ltte/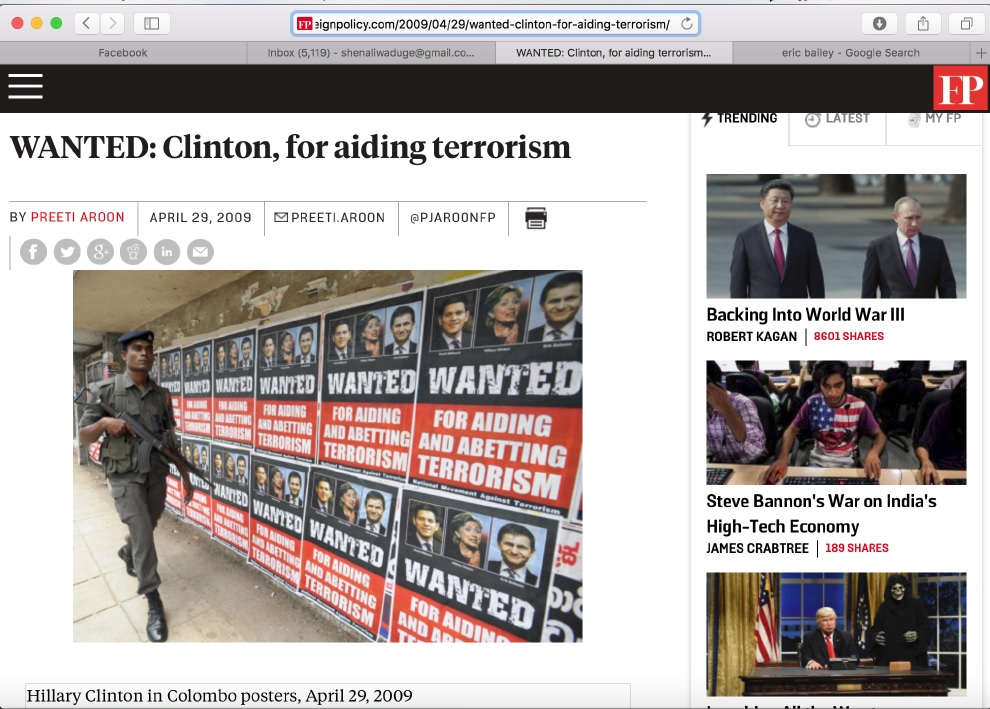 Tamils for Hillary was another campaign http://tamilsforhillary.com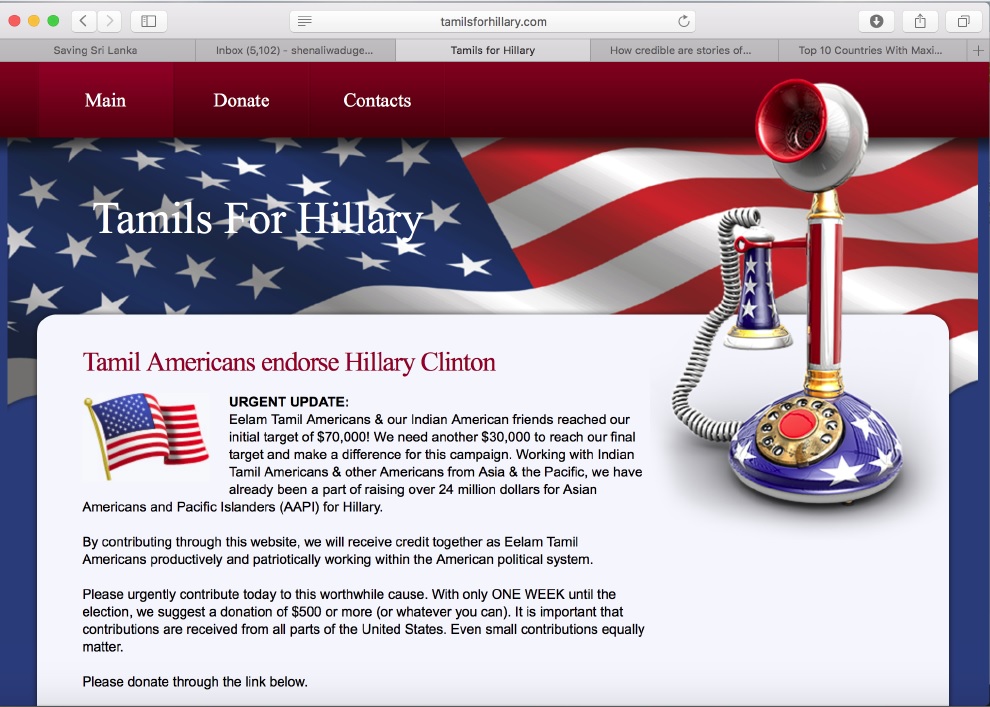 The influence they have exerted can be seen in these lines Sec. Clinton pushed three resolutions on Sri Lanka at the UN Human Rights Council to provide an international framework for accountability and transitional justice in Sri Lanka – necessary precursors for reconciliation – that ultimately led to the OISL report and the 2015 UNHRC resolution setting up a transitional justice and institutional reform process that was co-sponsored by Sri Lanka."
The desire to make Hillary Clinton president was such that attempts were made to even bribe the Gods with 1008 coconuts at a Hindu Kovil in Jaffna and lighting same number of candles at the Jaffna Cathedral by pro-LTTE Tamil National Alliance. http://www.ndtv.com/offbeat/sri-lankan-tamils-to-break-over-1000-coconuts-to-bless-hillary-clinton-1621603
One John MacKinnon in a post published by Lankaweb in 2013 titled Stop Hillary Clinton – Stop Support for Tamil Tiger Suicide Terrorists says Mrs. Hillary Clinton is a huge supporter of LTTE Terrorists and their genocidal terror agenda. He goes on to say that the LTTE diaspora lobbied for a presidential primary election in 2008. He says that the Tamil tiger lobby constantly met her inside the US State Dept when she became Secretary of State and as a result contributed to the shift in US policy towards Sri Lanka. He says As Americans, we need to stop supporting foreign terrorists … Our state department led by Mrs. Clinton advocates the separatist and racist agenda of extremist Tamils living in the US….It is amazing what money can buy these days".
Mr. MacKinnon also draws attention to another important fact – American Broadcasting Corporation revelation that Raj Rajaratnam arrested by FBI for a USD20m insider trading scam was a leading contributor to the LTTE connected TRO and campaign funds of Hillary Clinton.
Mr. MacKinnon also reminds of US Treasury Dept freezing assets of the Tamil Rehabilitation Organization (TRO) in Nov 2007 because of ties to LTTE.
http://www.lankaweb.com/news/items/2013/07/23/stop-hillary-clinton-stop-support-for-tamil-tiger-suicide-terrorists/
Mr. MacKinnon draws attention to Lara Stemple Director of Health and Human Rights Law Project at UCLA writing to the fake news site New York Times http://www.lankaweb.com/news/items/2011/03/04/lara-stemple-regurgitates-tamil-terror-propaganda-open-letter-to-the-ucla-chancellor/
We give below a few examples that the Trump Team cannot overlook.
President Trump knows well the controversies surrounding the Hillary Clinton email scandals. Even the Office of Inspector General found fault with Hillary Clinton for using a private email server while serving as Secretary of State. Declassified emails reveal that Hillary Clinton interfered on behalf of the LTTE in May 2009 when they were facing military defeat demanding IMF to immediately suspend funds to Sri Lanka. That email can be seen here – http://www.asiantribune.com/node/89009 / https://wikileaks.org/clinton-emails/emailid/13902
The LTTE Diaspora most of whom live in US, Canada, UK, Europe and Australia used their lobbying to get Clinton to influence and armtwist the Sri Lankan Government to declare a ceasefire to give LTTE another chance to re-group & re-arm.
Tamils for Clinton were urging US Presidential candidate Hillary Clinton to bring alleged Sri Lankan war criminals to the International Criminal Court (ICC).
We can only speculate on whether Hillary Clinton influenced the US Govt decision withdraw from its commitment to provide $500 million from the Millennium Development Account for road development.
In September 2009, Hillary Clinton chaired UN Security Council session when it adopted Resolution 1888 on conflict-related sexual violence. She said We've seen rape used as a tactic of war before in Bosnia, Burma, Sri Lanka, and elsewhere. In too many countries and in too many cases, the perpetrators of this violence are not punished, and so this impunity encourages further attacks." Of the 112 rapes (110 after the elimination of the LTTE) reported in the North & East none of them had been committed by the armed forces. http://www.onlanka.com/news/how-credible-are-stories-of-rape-in-north-sri-lanka.html In 2013 HRW came out with a report titled 'We will teach you a lesson: Sexual violence against Tamils by Sri Lankan Security Forces". HRW heavily influenced by George Soros, was going to teach Sri Lanka a lesson citing 75 cases spanning 6 years of which only 15 cases were proven guilty. In the US there was 173,610 victims in 2013 (DOJ) In the UK 22,100 rapes was reported in 2013. 51,200 Australians were raped in 2012. In Canada 460,000 sexual assaults are reported annually says Huffington Post.  On Oct 3, 2009, Lissa Muscatine, a senior aide to Clinton, acknowledged there had been a lack of due diligence in clearing Clinton's UN statement.
Hillary Clinton also visited Tamil Nadu and met Chief Minister Jayaraman Jayalalithaa, a persistent critic of GOSL, on July 20, 2011
http://www.washingtontimes.com/news/2009/apr/26/tigers-at-bay/  The Liberation Tigers of Tamil Eelam, one of the world's most violent terrorist outfits, are surrounded in northern Sri Lanka and about to be destroyed – but Secretary of State Hillary Rodham Clinton and European self-styled peacemakers are getting in the way of victory. The meddlers should let Colombo finish off this menace" (Editorial Washington Times – April 2009)
In 2008 a Sri Lankan newspaper released a shocking article by Ms. Hassina Leelaratna US Lawmakers with ties to LTTE money" naming Democrat Danny Davis and many other Congressmen.  http://pdfs.island.lk/2008/02/11/p7.pdf
The FBI website in 2008 featured Taming the Tamil Tigers – From Here in the U.S." FBI actions related to LTTE are quoted
In April, for example, we struck an important blow when our Joint Terrorism Task Force in New York arrested the alleged U.S. director of the Tigers. The man supposedly held several fundraising events at a church and various public schools in Queens and in northern New Jersey in 2004. He is also accused of arranging high-level meetings between the group's leaders and U.S. supporters.
We've also arrested another 11 Tamil Tiger-related suspects in the New York City region. And in Baltimore, following a multi-agency investigation, a pair of Indonesian men pled guilty and were sentenced recently for working with others to export surface to air missiles, state-of-the-art firearms, machine guns, and night vision goggles to the Tigers in Sri Lanka." (FBI)
It is probably by and large on the monetary influence to the Clinton Foundation and Clintons by the LTTE Diaspora lobby groups that her office was used to influence an anti Sri Lanka Government position leading to the co-sponsoring of the UNHRC Resolutions.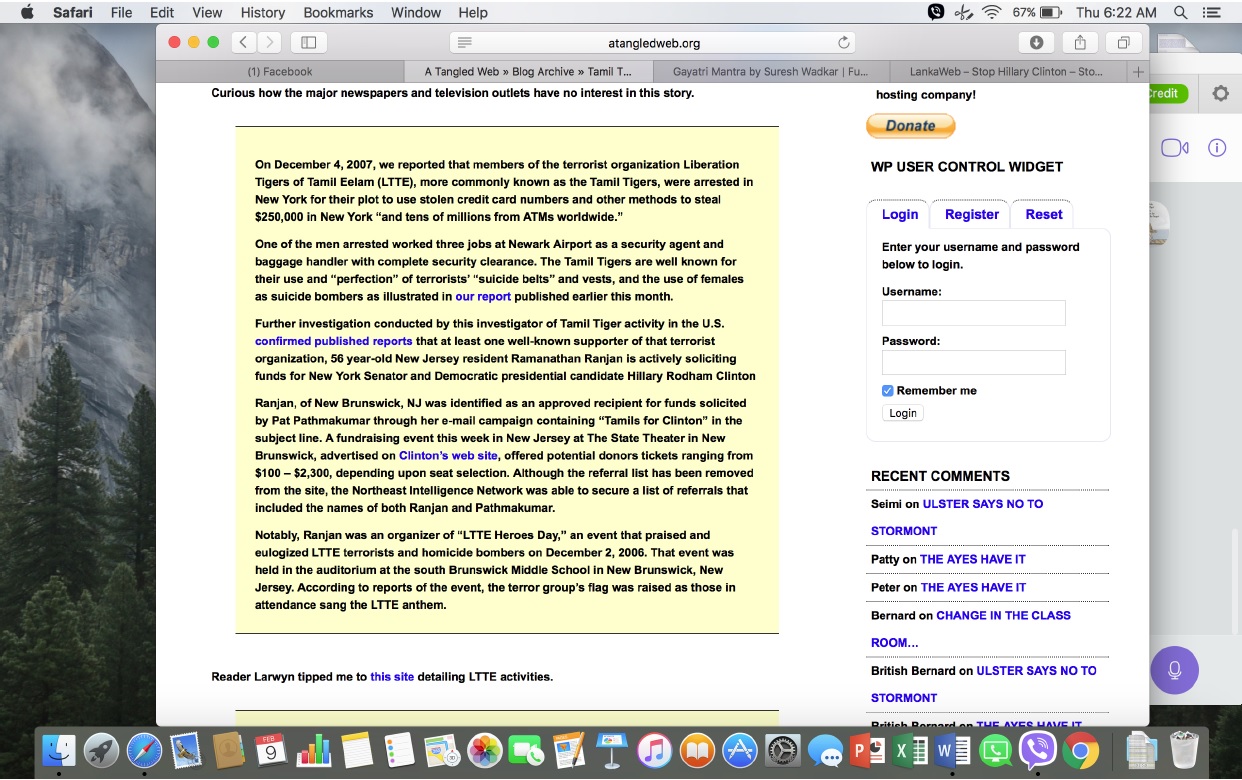 Dr. Chula Rajapakse spokesperson for United Sri Lanka Association in New Zealand in a congratulatory letter thanked President Trump for his unwavering stand against terrorism, bringing to attention Sri Lanka's own suffering through 3 decades by a terrorist outfit that the FBI had labeled 'World's Most Brutal" in 2008. He mentions that Sri Lanka became the only country to militarily defeat a terrorist movement though many western administrations including the US did not welcome the victory over terrorism. He attributed this to the influence of LTTE's illgotten wealth and Diaspora who used their numbers to help foreign politicians come to power in their constituencies resulting in unacceptable interference in the internal affairs of a sovereign nation. Dr. Chula in his letter urged the new Trump administration not to be misled as the previous US administration.
http://www.lankaweb.com/news/items/2017/02/07/congratulations-mr-president-support-sri-lankas-sovereignty/
What the new US administration needs to now ask is whether they are going to deal with some foreign passport holding LTTE diaspora heads who have been living abroad and supporting terror back in Sri Lanka, or whether the US Govt should have healthy relationship and diplomatic ties with a sovereign country and its government.
As President Trump has highlighted a new phase in international relations with non-interference with nations mutually willing to deal with the US is the new norm. This entails action against the Diaspora many of whom have been living on US soil and violating the US federal laws – in particular action is urged to be taken against US citizen V Rudrakumaran who has been the LTTE's legal counsel and who has set up some government in the sky in which he claims to be the Prime Minister. As far as we know the US Constitution allows for only a President.
We urge the Trump administration to in the least initiate investigation of all LTTE fronts who had been proscribed by the GOSL in April 2014 as LTTE fronts, even the one's that had been removed following influence of Mrs. Clinton and other European leaders who had ties to the LTTE diaspora. Many in the UN are regularly entertaining these proscribed entities in Geneva despite them being banned.
These LTTE fronts were all set up after the defeat of the LTTE in May 2009 Previously they had been functioning clandestinely under various charities like TRO which is also banned by US. Majority of Tamils living in Sri Lanka do not even know who they are or care to know them either. However, these people have been thriving and making lucrative business deals and dealing in illegal acts most of which the US authorities are also aware of. These need to be looked into and vetted for part of their illegal activity covers human illegal smuggling, narcotics and a host of other illegal activities.
At a time when President Trump is being ridiculed by mainstream media and various powerful lobby groups, we believe that the LTTE diaspora in context of their open support for Hillary Clinton is also party to these insults.
Governments must deal with Governments not internationally banned terrorist groups or their lobbying wings domiciled overseas.
The majority Sinhalese empathize with the feelings of the majority populace in America. We empathize with why they feel apathy to people entering their country and illegally utilizing tax dollars and this is where the LTTE diaspora stands guilty. Their lying propaganda machine has fooled the American people and the American government. Just as President Trump has understood the grievances of the majority Americans, we urge him to look at the grievances of the majority Sinhalese as well.
A new administration can look at these aspects from a new angle and take action as the LTTE diaspora are really irrelevant people to even the Sri Lankan Tamil minority living in Sri Lanka.
Shenali D Waduge
Please refer attachments for photos.
Further reference