There was no need for 30-year bonds: Auditor General (AG)
Posted on June 12th, 2017
Shehan Chamika Silva Courtesy The Daily Mirror
Testifying at the Presidential Commission of Inquiry on the Central Bank bond sales, Auditor General (AG) Gamini Wijeysinghe said the decision to opt for 30-year bonds at high interests rates could not be rationalized because according to the Finance Ministry the Government wanted to borrow to settle interest payments on previous bonds sales.
Initially, the Government needed to borrow Rs.13.5 billion by March 2, 2015 with the CB originally intending to sell 30-year bonds of one billion rupees at the primary auction held on February 27.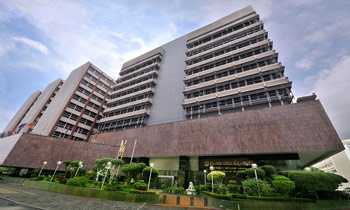 He said Rs.10 billion was generated for interest payments on previously sold bonds and that there was no need to raise money solely from bond auctions, because the funds could have been raised through the Direct Placement Method (DPM) from the Employee's Provident Fund and through short term Treasury Bills.
However, it was revealed at the Commission that former governor Arjun Mahendran had visited the Public Debt Department (PDD) on two occasion while the auction was taking place and had instructed that Rs.10.058 billion be raised even at the rate of 12.50%.
During the evidence led by Additional Solicitor General Yasantha Kodagoda PC, it was revealed that bids of up Rs.2,000 million was received from Perpetual Treasuries Ltd (PTL) while Rs.3,000 million was accepted from the Bank of Ceylon, largely on behalf of the PTL.
After a comparison with the previous practices at the CBSL on bond sales, the AG said the value of the bids accepted by the CBSL was far above the value of the bids offered by the CBSL.
Examining 248 previous bond sales between 2008 and 2014, the AG said it was an unprecedented decision by the CBSL.
He said the CBSL had failed to provide proper information on the secondary market transactions for the Auditor General's Department to prepare its report.
When asked about the temporary suspension of the DPM on March 2, 2015 the AG said there was no such decision from the Monetary Board according to his findings.
He said despite the PDD's recommendation to accept only Rs.2.6 billion through the auction, the ex-governor had intervened and instructed the Tender Board to increase it to Rs.10 billion. (Shehan Chamika Silva)
– See more at: http://www.dailymirror.lk/article/There-was-no-need-for-year-bonds-AG-130746.html#sthash.QNC2ruEn.dpuf