Mud slinging campaign has started
Posted on December 28th, 2017
By: A.A.M.NIZAM – MATARA
Having tasted the massive success of making malicious allegations, distortion of facts, misinformation and mud-slinging carried out during 2015 Presidential Election the inept government, the green/blue/red (elephant/hand/bell) combine has commenced a malicious mud slinging campaign againt the SLPP with a firm resolve to defeat this populist movement contesting against the scornful government.
The allegations made by the teledrama artiste Madusha Ramasinghe saying that sexual bribe was demanded from her for giving her nominations from the SLPP open up this new vicious mad slinging campaign.
Following is an explanation given in the Mahinda info.lk" website on this malicious allegation.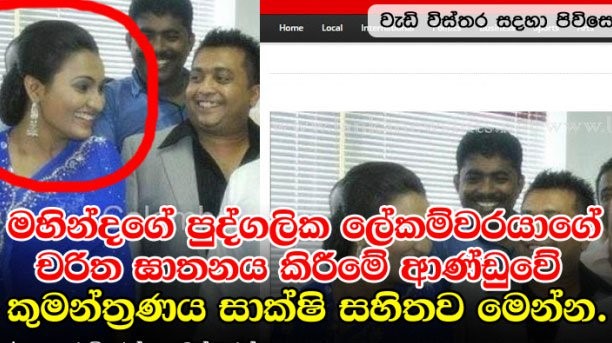 The present government has adopted various strategies to destroy the election mechanism of the SLPP the popularity of which is swelling day by day.  Netting of weak MPs by offering financial inducements, cancellatioon of nominations, arresting of persons with cocked up charges, filing of fraudulent cases, gobellization of fraudulent charges and allegations, intimidation, and making threats including death threats are some of the strategies being jointly and severally adopted by the government. The latest strategy of the government has been character assassinations.  The private secretary of Mr. Mahinda Rajapaksa has been alleged to have solicited sexual bribery for offering nominations for a notorious teledrama artiste.
(1) Let us first examine the mechanism being adopted by the SLPP for giving nominations. The SLPP is not a single party but an alliance of several parties.  In giving nominations under the first-past-the-post system only one candidate could be selected for each ward with numerous requests from a number of parties in the alliance.  In this process there is a severe competition.  Therefore a fixed procedure approved by the former President Mr. Mahinda Rajapaksa and MPs of the Joint Opposition was adopted for this process.
The 2 criteria looked into at this process were:
(i)    How much contributions have been made for the political activities of the relevant area and how much popularity has been gained by such activities;
(ii)  It has been proved that being a former member the victory can be ensured.
Optional:  Having graduated or having educational qualifications higher than that.  The reason for this is that it is educated people who are required for politics.  Although looking for degree level education is not the only criteria for assessing the intelligent level looking for other qualifications is not that easy.  (For instance: It is not practical to give an IQ  test paper simultaneously to 60,000 applicants).
If nomination is to be given to Madusha Ramasinghe as per the area she is living she has to be given nomination for Dehiwela, or Mt. Lavina or for Boralesgamuwa.  But there are umpteen numbers of politicians who have served these areas for decades and who have won the hearts of the people.  She was also not a former member of a Council.  She is also not a degree holder.
Accordingly she has not qualified under the bsic qualifications.   Whatever said by those who did not get nominations no one has been given nominations other than the aforementioned criteria for financial inducements or for any other reason.  If it was done so, it would have not been possible to keep about 20 political parties together in the new alliance. In addition to this there are several other crucial factors for denying nominations for her.  .
(2) Madusha Ramasinghe came to know among the people because she held a contract with the notorious group called New Generation" (Aluth Parapura) which was involved in a severe mud slinging campaign against UPFA during the last presidential election.  Several days before the presidential election she stated in a video clip that it was a lie that the Aluth Parpura people got attacked by the common candidate's group.
But Kamal Indika who was alleged to have carried out this attack was appointed as the chief SLFP organiser of the Hiriyale electorate after the ptesidential election.  Accordingly it was proved that the Aluth Parpura people got attacked by the common candidate group. By rejecting this fact it becomes clear about Madusha Ramasinghe's involvement in the UNP contract against the UPFA. It was the first stage of the contract.  Now you will be able to understand that Madusha Ramasinghe is a woman who is capable of carrying flames of fire underneath the water.  Anyone in the SLPP who is aware of her history will not give nomination to her.
(3) There were reports saying that Madusha Ramasinghe was to contest in UNP for the last general election although she now claims that she will stand in favour of SLPP and will work against the government.  What she says today and what she did in the past are vastly different similar to the earth and the sky.  This clearly shows that she doesn't have any firm policy.  A person who is prepared to betray her own soul will not hesitate to make any type of false allegations shamelessly denigrating her own character and the self. Although the UNP leaders do not love their country they love their Party very much.  Therefore it is reported that many leaders in the UNP have stated not to allow Madusha Ramasinghe to anywhere near to their Party locations
 (4) Madusha Ramasinghe has acknowledged that philanderer Duminda Dissanayake is her beloved lover. A note made in her facebook page on 10th September states:
Enough of being patient:
I have never hidden the fact that Duminda Dissanayake is my beloved lover whom I have loved more than my own life.  Do not trample my supreme love because of your inhuman animalistic politics.  I inform everyone with responsibility that I do not have any intention of misusing of state properties similar to making him affectionate like Sabita or any other one.  I do not have any deficiency to make my beloved lover to get attracted to any woman elder than him.  The text of the facebook page and a relevant newspaper cutting is attached below: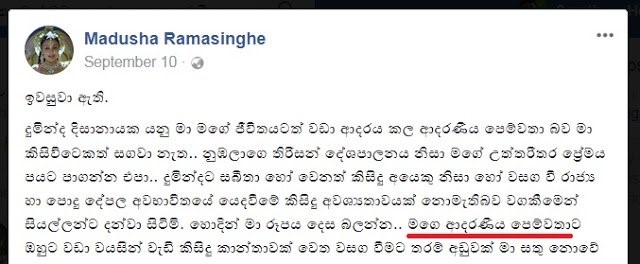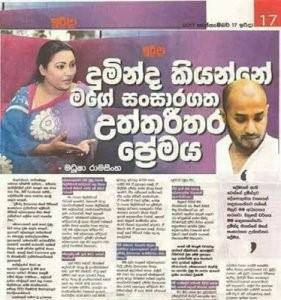 In the matter related to Sabitha's building she appears to safeguard Dununda Dissanayake.  The SLPP has no madness to give nomination of that party for someone who makes malicious allegations against Rajapaksas while working for Duminda Dissanayake.
It has become clear that it is Dununda Dissanayake who is making use of Madusha Ramasinghe for all allegations against the SLPP.
(5) In the highly successful JO Foot Walk from Kandy to Colombo Madusha Ramasinghe attempted to get photographs by coming closer to the Parliamentarian Namal Rajapaksa.  What she wanted was to make use of the photographs and make allegations through the media that she is the lover of MP Namal Rajapaksa.  This malicious attempt by her failed because Mr. Namal Rajapaksa security officer prevented her getting closer to Mr. Rajapaaksa
Recently there was a gathering of the youth activists of the SLPP.  Madusha Ramasinghe came to this gathering uninvited and took a seat in the main stage.  Although she said that she was invited to that gathering by MP Dilum Amunugama, Mr. Amunugama rejected this claim.  Invitations for this gathering was sent only by the SLPP youth affairs steering committee at the Nelum Mawatha office.  When she was moved out by the security personnel from the stage she got photographs of this incident by a preplanned arrangement by her own people and these photographs were posted in her facebook page.  What she wanted by this incident was to create a rift among the youth activists of the SLPP.  In addition to this certain individuals posing as pro-Mahinda people through bogus profiles raised questins as to why a person like her who shopped for Sirisena was allowed to getting to the SLPP stage?
(7) The baseless allegations being made by her that the SLPP nominations are being given only for those who offer sexual bribes is an extension of the aforementioned accusations and malicious plots. But shamelessly she herself tells the media that she does not have any evidence to confirm her accusations.
If it becomes possible to carry out baseless character assassinations of people through a tele drama artiste in this manner it will become very dangerous for the life of many important people in Sri Lanka.  It has been reported to us that steps are to be taken in the future through her lover's media gangs to make publicity by creating some bogus incidents involving artificial telephone conversations posing as conversations between important politians.  The SLPP is to take legal action against this woman's vicious criminal activities.
Similarly she has also stated that for the forthcoming election all parties have obtained sexual bribes.
In this nanner she accuses all women candidates amounting to more than 25% who contest the election from all parties.  She should be shameful to attack all women candidates contesting the election just because she failed to get nominations because of her unsuutablity and playing of political chameleon acts.  She has earned the scorn of everyone devoid of party politics.