NAVY SINKS KP,S SHIP WITH BULLET PROOF VEHCILES USED BY EX PRESIDENTS
Posted on March 29th, 2018
Dr Sarath Obeysekera
When I read above news item I remembered the story about the Buller Proof Vehicle of President of Ranasinghe Premadasa ,
After the bombing of Parliament by JVP ,where Minister Athulathmudali got hurt cabinet has decided to bomb and bullet proofing of the room in Senate House where cabinet Meeting was held .
I was working in a leading Engineering Company having experience in Armour Proof Steel ,was asked to Bullet and Bomb Proof the room .
We selected a steel plate of very high hardness which can with stand bullets and effect of a bomb form a Swedish supplier after visiting their mill
Steel plates were installed on the floor and sides and windows were covered with bullet proof glass ,because Police Unit was having clear view of the inside of the cabinet room .( They did not trust even the police at that time !)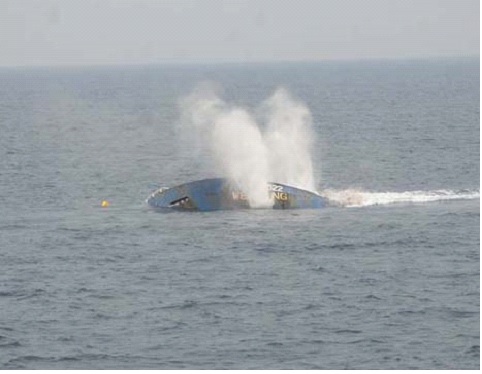 Once it was done a Land Rover car Imported by Minister Montague JaywIckrame but later used by the president Premadasa was sent to our company for bullet proofing.
Heavy steel plates were installed on doors and also bullet proof window screens and made the bullet proof .A plate was placed on car floor to minimize effect of a bomb explosion.
Ironically same Land Rover was driven with President and Babu in the car on the day of the fatal May Day Rally.
I personally saw then in the car near Dimo Show room and note RP waving to his supporters,
They returned back to Galawala Junction and somewhat intrepid president (badly advised by his own DIG Gunasinghe who was his body guard who perished during the bomb) has got down from the Bomb Proof car and waved his last white handkerchief!
I was standing at about 100 me distance watching the horror.
Same Land Rover has met the Waterloo" in Deep Sea and I felt very sad