Memorabilia and the hysterical mind of Jaffna University (JU) Students.
Posted on May 1st, 2018
Kanthar Balanathan
Quite frequently our Tamil youngsters in the North are critically frantic and hysterical with building memorabilia at odd places. Recently a media commented that the Jaffna University students started building memorabilia inside Jaffna Campus.
Students of the University wanted to remember the people who died during the war, hence started the construction. The Uni administration allowed to construct next to the so-called martyr's memorabilia. The high Education of the ministry denied and ordered to stop construction of the said memorabilia on the 25th. It is believed that this construction was in anticipation of the upcoming 18th May martyr's day remembrance celebration.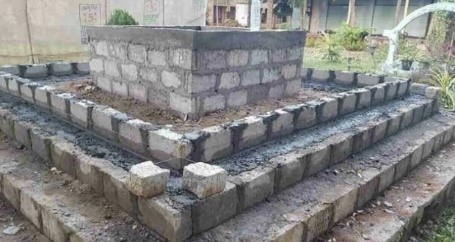 GOSL approved Universities in various region and one in Jaffna. The concept of a University was forgotten by the impeding Tamil students. For the last so many years the Students Union is engaged in terrorist activities of revolting against GOSL propagating that they run the country and what they say is correct. Some professors were involved with the student's union. Creating racial tension and fights between the Sinhalese and Tamils are a culture among the Tamil violent students.
Why are they engaged in violent activities?
Are they being driven by some violent terrorist mentality politicians?
Are the students being trained to evolve as another LTTE?
Are they planning to create a new New-LTTE terrorist front to fight GOSL?
Do they understand and realise that the North and Jaffna is being perished by their own politicians?
Instead of engaging themselves in building construction (Memorabilia), why not engage in cleaning the Jaffna city? (voluntary service)-If they are so patriotic with the North of SriLanka.
Why do the students want to keep the memory of terrorist in the minds of Tamils?
Sometimes back the foolish Tamil Diaspora joined with Nedumaran of Tamil Nadu were collecting funds to construct such memorabilia in Tanjore. What a nonsense and foolish act?
Finally, are we to conclude that the University is driving the students NUTS and to be racial psychiatric models of the world?
Professors in Tamil Language and Literature should ensure to teach the students in Tamil literature, and culture, NOT terrorism and racism. It is disgusting and disgrace to the Tamil community all over the world. Let the Professors of JU refine and reform their culture.