Buddhist bomb explodes in yahapalana prison – I
Posted on November 10th, 2018
C. Wijeyawickrema, LL.B., Ph.D.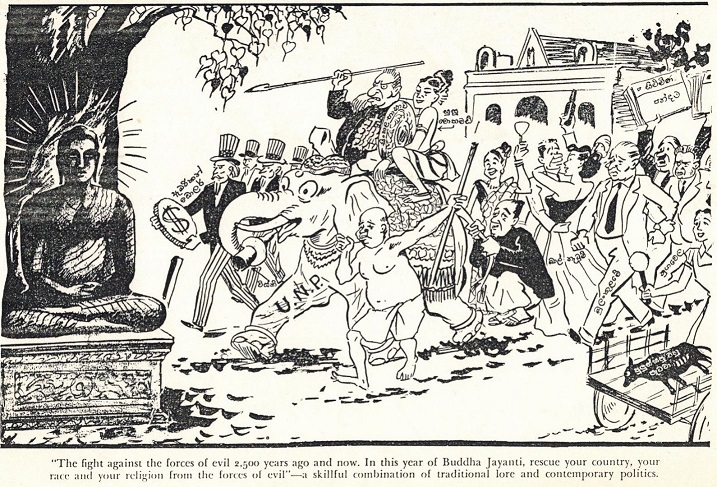 Forces of evil – 1956 vs. 2018
Buddhist pig and pork
The disposal of PM RanilW on Oct 26th becomes more meaningful when we examine the history of Sri Lanka as a [hi]story of a clash between rulers (white and black-white) and the temple (Sinhala Buddhists). The craving to make Sinhale a Christian kingdom began after 1505 with the first Catholic king Don Juan Dharmapala. The latest version of this plan to balkanize the Sinhala Buddhist state once and for all, designed craftly by a trio of RanilW, Mrs. Chandrika and an exam cheat, Marxist, JayampathyW, came to an abrupt end with the rebellious exit of its yahapalana prisoner MaithripalaS.
The Euro-centric historians of Sri Lanka, within the framework of Europeanization or Americanization of the world, divided the island's history as periods of Portuguese, Dutch and British rule, and then got struck with 70 years after 1948, unable or unwilling to brand it as the period of black-white rule. But when we escape from this Eurocentric (Europe is superior) mindset, when we see history as an attempt made by white and black-white rulers to derail the Sinhala Buddhist state based on the Trinity of Gama-Vawa-Dagoba (Village-tank-temple), the emerging pattern is a Sinhala Buddhist society facing what the biologist Garett Harding described as a Tragedy of the Commons. History is past geography of a country. Historical processes create geographical patterns (landscapes). Thus, a decision to make profit by exporting tea create several processes resulting in landscape patterns such as tea plantations, Indian labor lines, roads, poverty-stricken Sinhala villages, soil erosion and landslides.
The Sinhala Buddhist civilization, the Buddha Sasanaya, meaning male-female monks and lay persons, and its monuments protected in the past by some dedicated white civil servants, became the commons used and abused by the ruler and the ruling class starting with Governor North in 1799. Suddage neethiya penetrated the Buddhist Commons and eroded everything local and national. Some significant phases of the ebbs and flows of this conflict during the past 200 years are listed at the end of this essay. The latest episode of this corroding process by the black-whites began with a new European-backed invention of a 'common-candidate.' Robert Blake was behind it first time with Sarath F, and Michele Sison's visit to Nagaviharaya with ata pirikara marks the second successful effort.  Ven. Maduluwave Sobhita got trapped and perished. In this regard, the hurriedly erected pirith hut at the Temple Trees entrance is an attempt to invite the Maduluwave ghost to rescue façade of yahapalana devils.
Europeans gave up slave trade to begin a new venture of colonization. In this the strategy followed was divide and rule. But despite this and other unethical and bias methods the Sinhala Buddhist state survived, a miracle in world history like the survival of the Sinhala language in an ocean of rival Indian languages trying to swallow it. But by the year 2000 Sinhala Buddhist society reached a low ebb and Ven. Soma had his rise and fall (December 2003). Mrs. Chandrika branded BBS as a balu sena, and its leader was sent to a balu kuuduwa. What had happened in 2014 was not just a divide and conquer, but to use the proverbial pig's flesh to cut pork. The new game was running so successfully, even homosexuality, which should have been a private affair of male ministers became an open public matter of weekly helicopter trips to Deniyaya. Buddha statutes became anathema to Wigneswaran in the north as well as to RosyS in the Colombo mayor's office. Hunting of socially active monks using suddage neethiya made people sick.
In this dangerous climate when a new constitutional draft was about to be presented to seal the fate of Sinhale that existed for 2600 years, the second cat's paw used by the international king makers (IKMs) led by Sison & Co. with Indian RAW and other whites and black whites behind it, exploded a yahapalana bomb sending international shock waves. His behavior reminds one of what Keppettipola and Konappu Bandara, (later king Wimaladharmasuriya I) did in the past. The unfair and unreasonable treatment given to him by MahindaR, despite how he helped MR against Mrs. Chandrika's hostile conspiracies, compelled MithripalaS to embrace chilly leaving ginger. The late Maduluwave Sobhita, realized sooner that he was used as a pig, but MS did not want to betray the UNP that helped him to teach a lesson to MR. Impartially looking a break to MR's behavior wearing emperor's clothes was a good thing that had happened to MR as well as to the country, but MS did not expect that the price he had to pay for his personal salvation would be the betrayal of his country of birth. His numerous acts as president demonstrated that he is a Sinhala Buddhist villager from a peasant family. Otherwise, there was no reason for him to ask the man who takes fire under water, RanilW, whether he could continue to address him (Ranil) as Sir. To this day, we do not know if Ranil and Mrs. Chandrika addressed MS as Sir. May be MS will tell us this so that we know if there was mutual respect for each other, or it was one-way Christian Colombo seven domination.
The cartoon above appeared at the time of the parliamentary elections in April 1956, marked the helplessness of Sinhala Buddhists at that time. After 1956, the black-whites had a temporary set-back, but soon they (including black-white Marxists) started a process of derailing and sabotaging everything considered as remedial measures for Buddhist suffering. There was no room for a Buddhist approach to state craft. Buddhist reasonableness do not support arbitrary harassing of a Tamil for not knowing Sinhala. Thus, to give one simple example, the reasonable decision of making the majority language the official language so that English will no longer be the language of oppression and suppression, became an anti-Buddhist weapon in the hands of Tamil, Sinhala, Christian and Marxist black-whites.
The relevance of the 1956 cartoon to 2018 is so obvious. At that time, Buddhist society faced a tragedy of the commons. But now in 2018, Buddhists have become a society of pigs making pork. PMs and Ps of this island always operated with personal gain as their top concern. I challenged any one to prove otherwise. In such human tragedy, what MS did on Oct 26 was as equally significant as what MR did on May 19, 2009. Actually, MR ruined the war victory by his subsequent acts of unwise and unreasonable behavior.
Only a handful of persons, Nalin de Silva, Lalithasiri Gunaruwan and Gevindu Kumaratunga have so far looked at this explosion from a survival of the Sinhale perspective. Both Gomin Dayasiri and Nagananda Kodituwakku have missed the boat. Nirmal Ranjith Devasiri, the Marxist history teacher at Colombo University, a supporter of the just society movement led by the late Ven. Maduluvawe Sobhita, commemorating the one-year anniversary of the January 8, 2015 defeat of the MahindaR regime, rejoiced that it was the end of the Sinhala Buddhist hegemony found in the island since 1948 (Colombo today, January 11, 2016). He has been a supporter of Tamil separatism and like most other Marxists he was confused. If there was a Buddhist supremacy in the country as he claims, then the Ven. Soma phenomenon (tragically silenced in Russia in December 2003) and later the Bodu Bala Sena movement (began in May 2012) must be classified as stupid attempts by two monks to generate not light but heat. Instead, they spearheaded, a militant (disciplined) Buddhist reawakening movement revealing that the Sinhala politicians treat Sinhala Buddhists as if they were like the proverbial kind-hearted women.
Next essay will discuss how the same crowd who said, this war is not winnable," are now behind the slogan this parliament is sacred," or how the Western whites of USA, Canada, Australia, UK and EU openly prostitute democracy.
=========================
Stages of clash between black-whites vs. monks
1798-1873 – Buddhism = primitive idol worship
1840s-> Buddhism in death-bed
1880-1915->Olcott – Dharmapala period
1931-1948 – Donoughmore period; social service of Vidyodaya monks
1946-> political service of Vidyalankara monks
1956-1959 – Five Great Forces
1960-1978 – the Dark age
1978-2005 – The un-just Society
2000-2003 – Ven. Soma phenomenon
2004-2010-> Pirith Nuul outbreak
2012 May-> Bodu Bala Sena movement
2017 June 20 – Asgiriya Declaration, July 4th Asgiriya Notice
2018 Oct 26 – Explosion of the yahapalana bomb.
http://www.lankaweb.com/news/items/category/c-wijeyawickrema/
http://www.lankaweb.com/news/items/2017/07/30/%e0%b6%85%e0%b7%83%e0%b7%8a%e0%b6%9c%e0%b7%92%e0%b6%bb%e0%b7%92-%e0%b7%80%e0%b7%92%e0%b6%b4%e0%b7%8a%e0%b6%bd%e0%b7%80%e0%b6%ba/