Save the  country from TNA's Treachery. – Part IX
Posted on December 15th, 2018
By A.A.M.NIZAM – MATARA
The Canada based pro separatist scribe D.B.S.Jeyaraj who writes long articles to Daily Mirror run by Ranil Wickremasinghe's family and who has gained much experience in promoting the Tamil separatist objectives on the  sly has said that Sammbamdan (the terrorist grandpa) and diaspora bank rolled Sumanthiran  have been accused of harming the Tamil cause by attending the February 4th freedom day event as Thurogigal" or Traitors and a vicious  and venomous campaign is being orchestrated against both of them.  As per the views of the Sri Lankan patriots the act of both these terrorists were only an eye wash instigated by western diplomatic groups and Indian hegemonizes to pose it as their genuine wish and thereby promote the constitution ghost.
The article was full of hidden objectives to promote the separatist goal brief of extracts of the said article are given below with appropriate counter comments from the Sri Lankan patriots who can easily understand the direction the cattle is trying to take when it turns its head and the Sri Lankans have experienced this kind of gimmick when megalomaniac Prabhakaran was ruling the roost.
To justify the hidden objective of promoting the activities being carried out by the terrorist duo Jayaram says that the past weeks have seen a barrage of  articles critical of both in newspapers and websites published by LTTE remnants  in the Global Tamil Diaspora, Radio and TV Stations run by  LTTE and pro-LTTE elements and constant propagation of  derogatory views on the internet.  He says  that these internet warriors too are on the warpath against the terrorist duo.  If Jaqyaraj and his ilk believe that with this kind of negative comments against the terrorist duo they can promote their constitution and other separatist objective, they are grossly mistaken.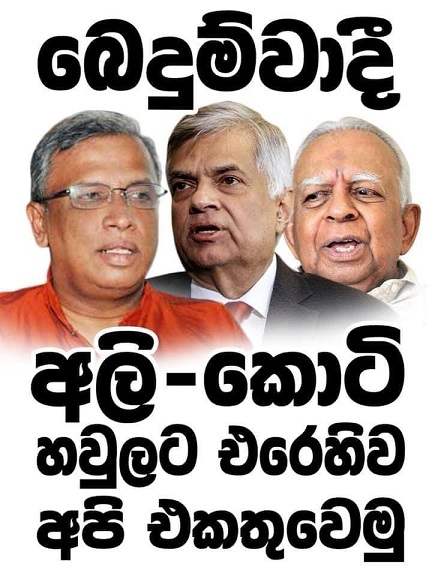 Let us join hands against the Separatist Elephant-Tiger Alliance
As it was pointed out in a previous article of mine, the Sri Lankan patriots suspect that this deliberately organised and purported anti Sumanthiran activities seems to have been organised to facilitate his migration to either UNP or to the camp of JEPPOs and the attempt to migrate to UNP has already become successful and he has now gained the authority to dictate terms to  the senior vice President of that party Lakshman Kiriella and participate in internal party meetings while the so-called party stalwarts remain dumb founded.
In February 21st a demonstration was held in Jaffna for the ostensible purpose of drawing attention to the plight of disappeared and missing persons. After engaging in protest opposite the Jaffna central bus stand, the demonstrators went in procession via Hospital road and Kankesanthurai (KKS) road to the memorial constructed for the persons killed during the    International Tamil Research Conference on January 10th, 1974. Youths also    shouted out   slogans against Sampanthan and Sumanthiran while proceeding,  leaving most onlookers puzzled  as to how those slogans would draw attention towards the plight of the disappeared.
Northern Provincial councillor Ananthy Sasitharan the wife of senior tiger leader Ezhilan" addressing the gathering said t that people  desperate over the plight of their missing family members had got emotionally agitated and  spontaneously engaged in the burning  Sumanthiran's  effigy and so suddenly .
Ananth's blatant untruths were immediately refuted by the council's deputy chairman Anton Jeyanathan. He responded to Ananthy angrily by asking her if the act was spontaneous then how was the effigy created beforehand and brought to the venue in,    her vehicle?" Jeyanathan elected from Mullaitheevu district went on to describe  Sumanthiran as a Mandaikkaai"  which colloquially means brainy person. He also shot down Ananthy's explanation about the spontaneous anger of the families of the disappeared and missing and queried Why should the family members burn Sumanthiran's effigy to  protest their relatives taken by the army"? Jeyanathan silenced Ananthy by posing a counter question Whose effigy can  the families of those taken by the tigers burn"? This struck home as Ananthy's husband Ezhilan is accused of conscripting youths on a large scale. ( Jeyaraj in has in earlier articles   has  vividly exposed the human rights violations and crimes against humanity perpetrated by Ezhilan).
Jeyaraj further stated that  when Ananthy was struck dumb by Jeyanathan's angry outburst, another provincial councillor tried to enter the fray. This was none other than Kandiah Sarweswaran the brother of TN A spokesperson and Eelam People's Revolutionary Liberation Front (EPRLF) leader Premachandran alias Suresh. Northern Provincial Council chairman C.V.K. Sivagnanam  who  was presiding,  had refused to let Sarweswaran speak. Sivagnanam forced an end to the discussion in the council about the effigy burning incident by his ruling.
Jeyaraj explained though the furore subsided at the council it is doubtful as to whether the controversy would simply peter out.    He   said   the related London antics by the pseudo-nationalists can be dismissed as the work of the Tamil lunatic fringe, but the r role played by TNA elements in attacking Sampanthan  and  Sumanthiran in Sri Lanka  cannot be ignored. The central committee of the IlankaiThamil ArasuKatchi (ITAK) which is the chief constituent of the TNA met in Vavuniya and  have   discussed necessarily follow up action.
 Jeyaraj further  states that it is certainly a fact that the TNA clique consisting of people like TNA parliamentarian Suresh" Premachandran, Provincial Councillors M.K. Sivajilingam, Ananthy Sasitharan, K Gajatheeban, ITAK senior vice president Prof.S.K. Sittampalam and ITAK youth front leader  V.S. Sivakaran are engaged in this type of politics. It is aided and supplemented by outside elements like Ex-MPs Gajendrakumar Ponnambalam and Selvarajah Gajendran of the TNPF and Kumaravadivel Guruparan the livewire behind the Tamil Civil Society Forum. Many of these malcontents maintain links to Liberation Tigers of Tamil Eelam (LTTE) elements abroad and a recruit to these ranks is the ambitious former Northern Chief Minister C.V. Wigneswaran who is working to his own agenda  He says that Wigneswaran is the latest Darling of the Diaspora after the ill-advised genocide" resolution adopt  by the NPC.
These opposing" sections are always on the look-out to find fault and embarrass the TNA particularly its leadership. Sumanthiran  has  said    that    he    had    been  singled out  specifically  because he is the most articulate  TNA parliamentarian. He is widely accepted by  some   pro  separatist Southern politicians  nationally as well as leaders and officials internationally. Sumanthiran is the most trusted and able deputy of the  terrorist grandpa Sampanthan and in recent times Sumanthiran has been playing a constructive role in Tamil political affairs. In a blend of public advocacy along with quiet diplomacy the TNA national list MP has been rendering yeoman service to his community. In many instances those who want to weaken  Sampanthan use Sumanthiran as a target. The idea is to cripple Sampanthan politically by undermining Sumanthiran.
Sumanthiran's  political role has  been appreciated and praised by many but it has also led to some  resentment` in certain circles within and outside the TNA. Jeyaraj comments that a mong the TNA parliamentarians of today, Sumanthiran is the only MP who has had no  interaction with any of the Tamil militant groups including the LTTE prior to his entering politics. Though born at the McLeod Hospital in Inuvil, Jaffna, he grew up in Colombo studying at Royal College. The protégé of Sumanthiran , the pro separatist Jeyaraj says   Smitherman was aloof from active politics, practising law in Colombo until invited by Sampanthan  to join the TNA. He was appointed national list MP in 2010 by Sampanthan despite Emeritus Professor Stamata also staking his claim. Sittampalam has  not forgiven the Sampanthan-Sumanthiran duo since then.
Tamil detractors of Sumanthiran particularly those in the Diaspora use the handle of national list MP to insult and belittle him. Since he was not elected to Parliament directly, Sumanthiran is described as someone who entered Parliament through the Pin Kathavu" or back door. Therefore, argue his Diaspora critics, Sumanthiran is a second-class MP and has no moral right to do whatever he is doing. This description of backdoor MP has absolutely no basis either legally, morally or practically as national list MP seats are allocated on the basis  of votes polled by each party.
A peculiar feature of Sri Lankan Tamil politics is the usage of backdoor MP" to   demean those parliamentarians nominated from the national list.  Sinhala, Up- Country Tamil   or Muslim politics does not have this attribute. National list MPs are not called  backdoor MP's by their rivals or critics. Only Sri Lankan Tamils have this tendency. This    practice began with the introduction of the current system in 1989. The man responsible  for  this phrase  was former North-eastern Chief Minister Annamalai Varatharajapperumaal.   When veteran TULF leader Appapillai Amirthalingam was nominated as national list MP in     1989, Varatharajapperumaal criticised it and dubbed Amirthalingam's entry as having been    done through the backdoor.
The term backdoor MP has been bandied about in Tamil politics ever since. Those nominated on the national list with LTTE blessings like Joseph Prarajasingham. M.K. Eelaventhan, S.Thurairatnasingham etc were not called backdoor MPs derisively. But those Tamil national list  MPs such as Dr. Neelan Tiruchelvam and M.A. Sumanthiran whom tiger elements do not favour have been  described as such.
The current Parliament has many national list MPs like  Eran Wickremaratne, Dr. Harsha de Silva , D.M. Swaminathan, Anura Kumara Dissanayake,  M.T. Hasen Ali,  Muthu Sivalingam etc. None of them are called backdoor MPs by their critics. However, in the case of Sumanthiran, his detractors particularly the feline affiliates take relish in describing him so.
Defending Sumanthiran his corotege Jeyaraj says that another avenue of attack is to refer to his Colombo background. Sumanthiran is called a Kozhumbuth Thamizhan" or Colombo Tamil. Therefore, he cannot speak for the Tamils of the North and East is the argument. The funny thing is that these jokers do not use the same argument against Gajendrakumar Ponnambalam who was born   and bred in Colombo. Only Sumanthiran  is attacked as a Colombo Tamil simply because he does not pander to the whims and fancies of tiger elements and LTTE
The highly personalised attacks  against Sumanthiran have escalated in recent times. There is perhaps an ulterior motive in such escalation according to TNA circles. Since the   attacks  against Sumanthiran  are on the basis that he is a national list MP from Colombo a decision has been taken by the TNA hierarchy to field him as a candidate at the next Parliamentary elections. Though ITAK branches from Mullaitheevu, Amparai and Trincomalee districts wanted Sumanthiran to contest from their respective districts, TNA leader Sampanthan had been of the view that Sumanthiran should enter Parliament as an elected MP from Jaffna district where his roots are from.
(To be continued)