Korean Ambassdor and Kukkiwon Cup details
Posted on December 22nd, 2018
Sports
The Korean Ambassador's and Kukkiwon Cup Taekwondo Championships 2018 were held from 15th to 20th December 2018 at the indoor Gym of Ministry of Sports and the Royal Mas arena, Royal college. It was the biggest scale Taekwondo Competition in Sri Lanka, along with around 2,000 Taekwondo competitors and officials.
His Excellency Heon Lee, Korean Ambassdor and Kukkiwon Dispatched Taekwondo Master Ki Su Lee hand over Sparring Gold Medal, Best player trophy and gift to Y.K.M.Madushani(SL Army)
The Korean Ambassador's Kukkiwon Cup Championship is organized by the Embassy and Kukkiwon-which is the world Taekwondo Headquarters-in cooperation with the Ministry of Sports-Sri Lanka and the Sri Lanka Taekwondo Federation. It was held for the first time in the year 2015, with the aim of promoting unity and solidarity among Sri Lankan Taekwondo enthusiasts, as well as to promote the development of this martial art in the island.
His excellency Heon Lee, Ambassador of the Republic of Korea who was chief Guest stated that Over the past two decades, the Korean government and Kukkiwon have worked together to promote Taekwondo all over the island, including universities, schools, National Youth Council, government agencies and the Sri Lankan Army, Navy, Air Force and Police. Sri Lankans practice Taekwondo as a sport or a martial art, and it has now become an important contributory factor in deepening the bonds of friendship, understanding and cooperation between our two countries.
Mr. Suresh Subramaniam, Chairman of National Olympic Committee as guest of honor, Mr. Kanchna Jayarathana, President of Sri Lanka Taekwondo Federation, Grand Master Ki Su Lee, Kukkiwon Dispatched Taekwondo Master, Ms. Kim Min Ji, Secretary of Korean Embassy, Additional Secretary and Director General of Ministry of Sports, Representatives from Army, Navy, Airforce, Police, District Taekwondo Associations and others were presented for the final matches and Awarding ceremony.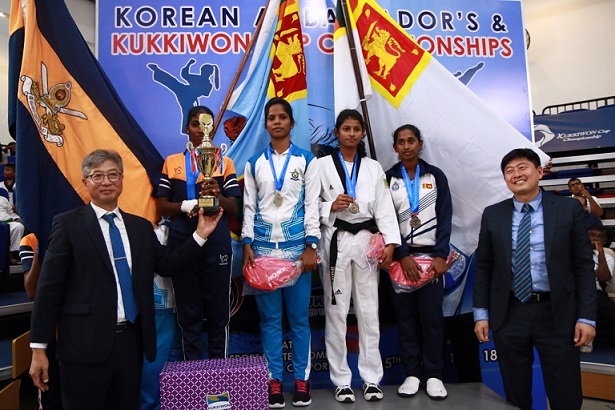 His excellency Heon Lee, Korean Ambassador and Kukkiwon dispatched Taekwondo
Master Ki Su Lee hand over taekwondo equipment donation to Mr. Kanchana Jayarathna and Mr. Chaminda Punchihewa, Secretary General of Sri Lanka Taekwondo Federation
Mr. Kanchna Jayarathna received the Honorary 6th Dan Black belt from Kukkiwon-World Taekwondo Headquarters for the contribution to develop and promote taekwondo in Sri Lanka. His excellency Heon Lee, Korean Ambassador and Kukkiwon dispatched Taekwondo Master Ki Su Lee are handing over the certificate.