Parakrama first-ever industry professional to be made Ports, Shipping, and Southern Development Secretary
Posted on December 29th, 2018
Dr Sarath n Obeyskera  
Top industry professional Dr. Parakrama Dissanayake has been appointed as the Secretary to the Ministry of Ports, Shipping, and Southern Development by President Maithripala Sirisena.
When I read above news article I noted that ruling class is getting senses into their brains .Whenever a minister is not an expert in the field ,it is essential to have a secretary who is thorough in the subject of the ministry .I was at the swearing ceremony of the Newly appointed Non Cabinet minister for Science and Technology as I was invited as co chairman of the government appointed advisory committee for development of boat building .EDB which is spearheading the National Export Strategy ( NES) will also come under the new minister's purview.
When I went for the ceremony , the tiny office where  minister was to swear in was full of Buddhist clergy and his supporters .We technocrats were not having any space to be in the vicinity of the minister, We expected a meeting after a short swearing-in to discuss how to go forward with NES .But the ceremony was full of political speeches and religious praying .Famous Mevin Silva was making a speech and act as the entertainer with his sharp tongue !.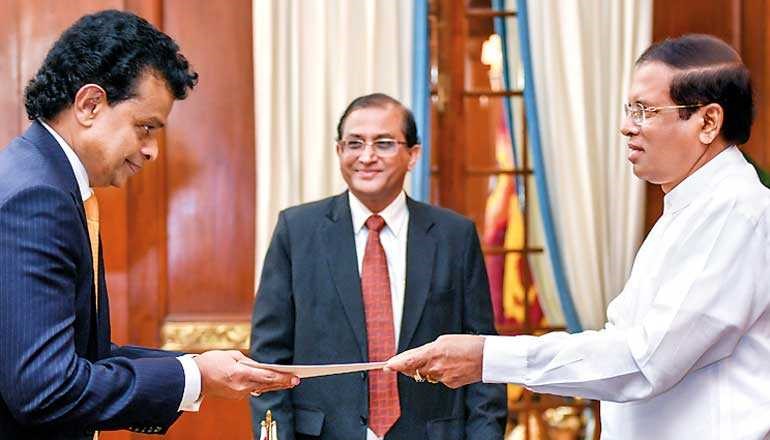 There was no Secretary appointed, but the signal given was that a SLAS nonacademic will be appointed as the Secretary ,who may not have nay any clue about NES and Science and Technology .
Government should at least take clue form Singapore   and appoint ministers with exposure to the relevant field, if it is not possible due to other priorities, they should at least select an Industry Specialist like the one appointed to ports.
In many countries some ministers are appointed from  outside parliament .In some European countries non-partisan ministers are appointed ,who are selected by the president .In Sri Lanka key ministries which  are involved in generation of Foreign Reserves and who are involved in Investments should be Non Partisan so that president can put country in front of political alienations .
We should follow similar practices if we are to move ahead
Dr Sarath n Obeyskera