Gota's camp promises key biz reforms, concessions
Posted on October 28th, 2019
By Nishel Fernando Courtesy The Daily Mirror
Sweeping CRIB reforms to support businesses with promise that are in trouble
18-month debt moratorium on capital for struggling businesses
Deposit Insurance and Liquidity Support Scheme funds to support biz
Low market interest rate regime to revive biz activities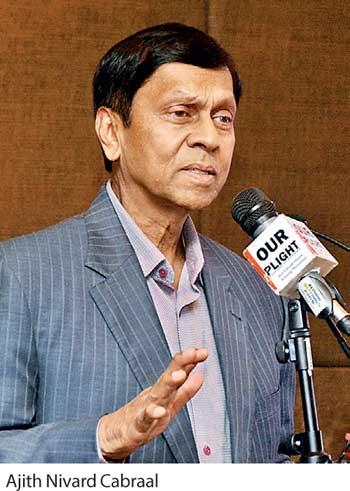 Sri Lankan businesses were last week promised of key concessions including debt moratoriums, lower interest rates, sweeping CRIB reforms and State-backed financial aid if Sri Lanka Podujana Peramuna (SLPP) candidate Gotabaya Rajapaksa is elected president at the upcoming presidential election.
First of all, we will reform the CRIB. We will bring in a restructuring system, so the people who have shown good results, but having difficulties in repaying their loans as a result of the current downturn in the economy, will be given protection. Some leeway will be given for them to revive their businesses," former Central Bank Governor Ajith Nivard Cabraal, who is a key architect of Rajapaksa's economic policy said. 
He shared these remarks at a panel discussion themed 'Financially Sustainable Economic Development' organised by SLPP affiliated V-Movement in Colombo last Friday. 
There are thousands of entrepreneurs who are in difficulty. They have been forced to go to various places to borrow," he noted.

Cabraal also said an 18-month debt moratorium on capital will be given for struggling businesses for them to retain capital and implement their business plans. You (businesses) will have to only service your interest during the moratorium period and then banks won't get into trouble," he said.

Cabraal emphasised that greater financial assistance would be extended to local firms by utilising funds at the Deposit Insurance and Liquidity Support Scheme to overcome the current economic downturn.

We have to make sure that financial intuitions are protected. We set up what is known as the Deposit Insurance and Liquidity Support Scheme in 2007. It started with Rs.1 billion and has grown to Rs.60 billion now.

We need to use that to protect some of the businesses that have become vulnerable today."

It was pointed out that the construction and hospitality sector in particular has been adversely impacted by the current economic downturn, sending shockwaves across other
sub-sectors.
We need to use this fund to provide the liquidity to strengthen them again," he stressed.

Cabraal said that measures will be taken to enhance the soundness of the country's financial sector.

We will make sure that they are stronger, they are able to withstand current shocks and then we will be able to move forward."

Speaking of the prevailing high interest rates, Cabraal noted that it has become impossible for businesses to carry out operations under the current interest
rate regime.

Therefore, he assured that it will be a top priority to bring down market lending rates, if Rajapaksa is elected to presidency.

We will make sure that interest rates come down, because people cannot do business with the current high interest rate regime.

In 2014, the average weighted prime lending rate (AWPLR) stood at 6.2 percent. However, the current AWPLR is 12 percent. A young man who wants to build a house will pay 18 percent interest on his loan today, whereas it was only 10 percent earlier," he pointed out.

However, Cabraal noted that the problem of high interest rates would be addressed cautiously.

The interest rates will have to come down. We have to work it out carefully. Having that goal in mind, we have to see that the credit goes to areas where we can expect growth in the future," he stressed.

Further, he also emphasised on the importance of ensuring rupee's stability.

Cabraal was confident that these immediate remedies would set the stage for the private sector to drive Sri Lanka to achieve 6-8 percent economic growth per annum during next five years.