Sri Lanka in 'debt trap', India's response shows pushback against China has begun
Posted on January 18th, 2022
While China waits for a Hambantota Port-like 'takeover' of Colombo port city, India has responded with great alacrity to Sri Lanka's financial needs.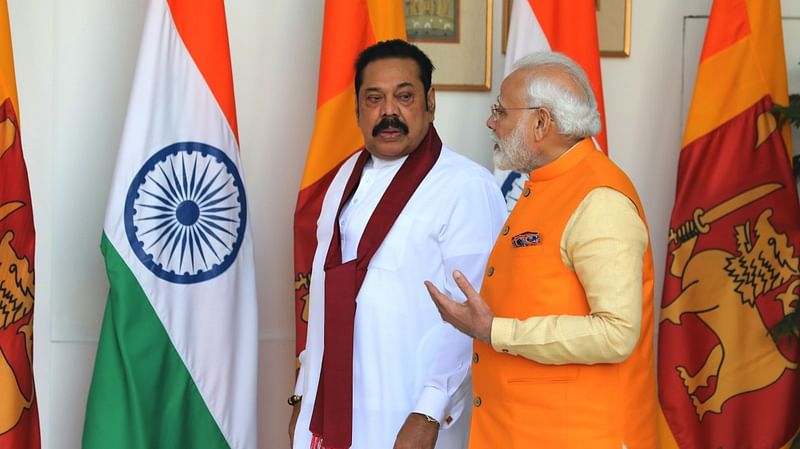 Days after Chinese foreign minister Wang Yi returned home from his trip to a handful of Indian Ocean countries, including Sri Lanka, New Delhi eased Colombo from its stressful economic situation by extending a $912 million loan as well as another $1.5 billion for two credit lines involving the purchase of food and fuel from India.
Simply put, the prolonged Covid crisis has deeply affected Sri Lanka's tourist-dependent economy and for some time the island nation has been staring at a default. On the one hand, China has inveigled itself into the country's primary donor space by lending money to develop high-profile projects like the Hambantota Port in the south and a brand new Colombo port city on reclaimed land.
Building these trophy projects with Chinese help is expected to catapult Sri Lanka into a brave new world a few decades from now. But for the time being, Colombo is struggling with embarrassingly high debt, which it has asked Beijing to help restructure.
For now, China has ignored the request. It may be one reason for the Rajapaksa brothers who run Sri Lanka – President Gotabaya, Prime Minister Mahinda, finance minister Basil, and irrigation & water resources minister Chamal – to believe that it might be time to diversify their foreign interests and not put all their hoppers into the Chinese basket.
---
Also read: India-led Quad can rescue Sri Lanka from its 'Made in China' crisis. But timing is key
---
Re-enter India
Earlier this month, after 24 years of discussion — the matter was first brought up during the I987 Indo-Sri Lanka Accord discussions between Rajiv Gandhi and J.R. Jayewardene — the Rajapaksa Cabinet cleared the proposal for India and Sri Lanka to jointly develop the Trincomalee oil tank project in eastern Sri Lanka.
This envisages Indian Oil Company's subsidiary Lanka IOC to run 14 of the 99 oil tanks, Ceylon Petroleum Corporation will run 24, while a joint venture between the two, called the Trinco Petroleum Terminal Pvt Ltd will run the remaining 61 oil tanks — CPC owning 51% stake and Lanka IOC owning the remaining 49%. The joint venture is scheduled to last for 50 years.
The two credit lines for food and fuel, worth $1.5 billion and $912 million loan were announced on Saturday when External Affairs Minister S. Jaishankar spoke to finance minister Basil Rajapaksa.
Certainly, India's help will give Sri Lanka a temporary reprieve. In December 2021, the international ratings agency Fitch downgraded Sri Lanka from CCC to CC". Nothing that the People's Bank of Sri Lanka said made any difference to Fitch – including the promise of an impending swap facility of $1.5 billion promised by China at the end of December (it took place). Shortly before Fitch, an unmoved Standard & Poor's had lowered Sri Lanka's ratings from CCC+ to CCC" citing greater sovereign default risk.
Wang Yi's visit hardly lit up the skies in Colombo. Further requests to restructure debt were ignored — Sri Lanka has run up an external debt of more than $45 billion — about 60% per cent of its nominal GDP (2020) compared to India's around 20% and Pakistan's 40%. Sri Lanka owes at least $8 billion to China alone.
China sent a consignment of sugar to Sri Lanka upon Wang Yi's return, perhaps to sweeten the demand that Colombo should sign a free trade agreement (FTA) with it – Colombo has studiously ignored the demand.
Meanwhile, in November 2021, Basil Rajapaksa had flown to Delhi. Jaishankar promised to help and presented him with a four-pillar" package — including welcoming Indian investments and accepting credit lines for Indian goods. The Trinco oil farms project constituted a large part of the discussion.
So, as the new year dawns, the question is, what's going on in India-Sri Lanka-China relations? Certainly, New Delhi is keenly aware that the Chinese have been sitting on the Line of Actual Control (LAC) in the Himalayas and show no signs of going back anytime soon.
In the Indian Ocean, meanwhile, there has been creditable effort in clawing back influence, especially in the wake of the Rajapaksa brothers handing over the East Container Terminal of the Colombo port to the Chinese — union workers had supposedly fussed about the India-Japan-Sri Lanka venture that had sought to manage it.
Instead, the Rajapaksas have sought to mollify India by allowing it to run the West Container Terminal in Colombo port — the Adanis have won that particular contract. Clearing the Trinco oil farm project is icing on the cake.
---
Also read: How Taliban's takeover of Afghanistan puts China in $282 billion creditor trap
---
Charm of Chinese money on wane
At the start of the pandemic two years ago, PM Mahinda Rajapaksa had chanted prayers to alleviate the suffering of the Chinese people. Today, questions are being asked about Sri Lanka's Chinese debt trap." And whether India, a much poorer neighbour in comparison, could offer more sustainable alternatives.
Perhaps the charm of the Chinese developing the Hambantota Port and the nearby Mattala airport, in Mahinda Rajapaksa's own constituency, may be finally fading. (When Sri Lanka couldn't pay back its annual EMI on the Chinese loan, it was forced to lease the port over to the state-owned China Merchants agency for 99 years.)
Perhaps the Sri Lankans are beginning to realise that something similar is afoot in the Colombo port city — that a $1.4 billion investment by China Harbour Engineering Company to reclaim 660 acres (2.4 sq km) of land there has meant that the Chinese firm gets 43% of the project on a 99-year lease.
Naturally, the Chinese are pooh-poohing any real estate takeover predictions. China's ambassador to Sri Lanka Qi Zhenhong has, in fact, said that $15 billion of FDI in the new port city are on the cards.
---
Also read: Why it's impossible for Beijing to become the master of East Asia
---
India's pushback
But the fact that India is responding with such alacrity to Sri Lanka's financial needs demonstrates a greater mutual understanding between the Rajapaksas and the Narendra Modi government. Significantly, New Delhi is not attacking Colombo over its growing dependence on China with a ferocity usually reserved for nations like Pakistan.
Still, the Sri Lankans are likely evaluating their own future investments. They realise that poor nations like the Republic of Djibouti, Laos, Zambia, and Kyrgyzstan have debts to China amounting to 20% of their GDP. And that according to AidData, another 40 small and medium-sized nations have at least a 10% exposure, including hidden debt."
Do the Rajapaksas finally realise the long game that the Chinese are playing? Were words exchanged between them and Wang Yi during his recent visit? Perhaps that's why Beijing refused to reschedule any of Sri Lanka's debt.
Whatever the reality, one thing is clear: The first glimmer of a pushback against China in a debt-ridden South Asian nation may have begun.
Jyoti Malhotra is a senior consulting editor at ThePrint. She tweets @jomalhotra. Views are personal.