THE ECONOMY OF SRI LANKA Part 3B
Posted on May 3rd, 2022
KAMALIKA  PIERIS
The ocean resources of Sri Lanka are in the process of expanding due to the relatively new UN Law of the Sea,  announced the media.   The Territorial and Continuous areas will add a sea area 8 times our land area. Sri Lanka will thereafter acquire 200 nautical miles as an Exclusive Economic Zone, (EEZ) when its claim is considered. This would extend to about 350 kilometers or more from the shore. This would increase our sea area to more than 27 times the landmass we have.  The total area will resemble a fan around the island.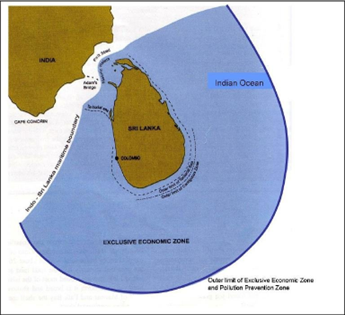 Sri Lanka will have the exclusive right to enjoy and manage the resources in this Zone. This ocean area will be the most valuable economic asset of the country, said experts. The future prosperity of this country lies in the sea which surrounds it.
This EEZ has minerals and hydrocarbons, oil and gas of great economic value, as well seaweed farming, extended fisheries said analysts. In addition, Sri Lanka can promote oceanic recreational opportunities such as surfing, whale and dolphin watching, deep sea diving, sea entertainment and sea sports.
This area has a thick sediment cover having a high potential of hydrocarbon accumulation. Therefore this sea area should have tremendous potential for oil and gas. It is considered highly probably that there is oil and gas on the west and east coasts. Minerals such as titanium, zirconium, thorium, potassium, cobalt, nickel, copper manganese have been discovered.
Over 600 coastal and nearly 100 pelagic fish have been reported. Some 60 species of sharks, over 20 species of demersal fish and shell fish have been reported. However at present we lack the fishing vessels to get at these. Also sea weed has great economic potential. Promising spies of Garcilaira, Ulva and Sargassum have been found in these coastal waters.
A best part of this EEZ will go to Eelam, if we are not careful, warned critics. Eelam start at Puttalam, goes up to Jaffna, down past Trincomalee and Batticaloa to Ampara. The oil and gas reserves of the west and east will become part of Eelam.. (Continued)
MAP OF TAMIL EELAM.