Balkanization of Sri Lanka & Victor Ivan's plan (part 1)
Posted on August 21st, 2022
C. Wijeyawickrema, LL.B., Ph.D.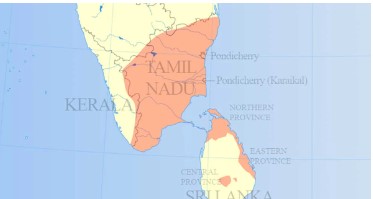 (Note: Editor@ft.lk – This essay is an explanation regarding Victor Ivan's guest column. If you are unable to print it in your newspaper, kindly forward it to him.)
Introduction
Victor Ivan's guest column in the DailyFT (August 5, 2022), received an adverse reaction from Sepal Amarasinghe, a fellow traveler in the same bus, declaring that Victor has committed [political] suicide (by Victor's recognition of Ranil's destiny" instead of Ranil's fate). According to Sepal, Ranil has a very short span of power. Unlike that kind of prognosis, an email that I saw, feared that Victor signals 'terrible trouble' for the Sinhala Buddhist heritage in the island. Victor says both Gotabhaya and Ranil 'agreed' to implement the program of action that he has prepared which means double jeopardy for the country.
Reading between the lines of Victor's guest piece, one could guess that he hides more than what he reveals. Victor indicates a Judo-Christian flavored Marxist focus, tempered, or reinforced by the late Mangala Samaraweera's Anti-Sinhala Buddhist agenda. In 1998, as one of Mrs. Chandrika's Sudu Nelum (white lotus) ministers, Mangala was on record for wanting to throw the Sinhala Commission Report to the dustbin of history! This agenda, known also as the Anti-Mahavamsa mindset (project), had been a ghost of what the first British governor North wanted in1802; to delink the close affinity between the colony's temples and villages.
In his many writings, Victor has approached Sri Lankan history from a caste suppression framework. His obsession with this theme was such that he even wrote a book titled පන්සලේ විප්ලවය (Revolt in the temple) in 2006, an immature description of නිකාය (sects) system amongst the Sanga fraternity.
In this essay, I am trying to explain that the Middle Path doctrine in Buddhism provides a superior way of living in peace and happiness in this troubled world. Democracy, socialism, rule of law, human rights etc., slogans so dear to black-whites such as Victor, Dayan Jayatilaka, Jehan Perera and Kumar David, to name just a few, are concepts practiced by Sinhala Buddhists for thousands of years, until colonialism spoilt it since 1551, when the king of Kotte was forced to embrace Christianity.
In short, all the structural programs that Victor has proposed to Gotabhaya and Ranil to implement at Colombo level (central government) would end up in balkanizing Sri Lanka, unless people are empowered at local level (Jana Sabha) resurrecting Sri Lanka's 2000-year-old social-economic-political Trinity (model) of ගම-වැව-දාගැබ (village, water reservoir, temple [church/mosque/kovil]). (Ref. diagram in A. T. Ariyaratne's book, Power Pyramid and Dharma Chakraya (බල පිරමිඩය හා ධර්ම චක්‍රය), 1988, page 114). This kind of empowerment is what the country needs. Lahiru Wijesekera of the Aragalaya, demands the same kind of consensual politics, people's councils (මහජන කවුන්සිල්, not one giant council in Colombo) as its next step.
Instead, Ranil predicts a Lebanon-type crisis, if an all-party central government cannot be sooner formed (LankaCnews, 17/8/2022)! It looks like his strategy is to get a parliament rubber-stamping his own plans and not a national policy framework. The way politicians are handling matters now, there is a possibility of a country-wide protests and anarchy, and UN peace-keeping forces landing for an R2P operation led by American and Indian elements.
Can we eat history?
The history of a country is its past geography. During JRJ's presidency he (or his PM) asked, 'Can we eat history'. Christian church leaders also raised this question occasionally in their Christmas messages. It is more politically loaded than the other stupid question, 'Can we eat oxygen.' History and geography were removed from school curriculum in the 1960s by Mrs. B's education minister Badiuddeen. Mrs. Chandrika removed from grade 9 school textbooks, perhaps with Tara de Mel's instigation, any reference to Anagarika Dharmapala's service to the nation or about the patriotic poems by the Tibetan monk S. Mahinda.
The adverse impact of this unwise decision on the nation's Sinhala Buddhist heritage is beyond comprehension. Thus, we now have souls (පංචස්කන්ධ) who do not know, who was King Dutugamunu or what are the four rivers flowing down radially from the Sri Pada mountains. This is why Samanali Fonseka once promoted a Facebook picture of dumping Meethotamulla garbage at the site of the Jethavanarama Stupa. She did not select the Madu Catholic shrine or a remote Jaffna Hindu kovil for this brilliant idea! I wonder if she is still an ardent fan of the Aragalaya, like Damitha Abeyratne. There is no doubt that the multiple leaders of the now dispersing Galle Face Aragalaya cannot pass the simple geography test above.
'System change' without balkanizing the country
Ten days after the beginning of Galle Face Aragalaya, I identified it on 19/4/22 as a plan aimed not at a system change but a regime change, by the same people who preached before 19/5/2009 that 'this war was not winnable' (රට කැබලි නොකර සිස්ටම් චේන්ජ් කිරීම – බුදු දහම හා ජන සභා සංකල්පය – 2022). It is now obvious that Aragalaya was nothing but a new face of the Anti-Mahavamsa project propagated via Facebook, Twitter, WhatsApp etc. The appeal made by TNA's boy MP ShanakiyanR in the parliament for Colombo people to continue the struggle was just one hint of this hidden agenda. There is a world of difference between these bearded Aragala boys and the village boys who painted street walls and buildings with patriotic pictures and songs after the 2019 presidential election.
System change must be done systematically (evolution, not r-evolution)
JVP list MP Harini now admits that Aragalaya had no plan on what to do after getting rid of Gotabhaya. After all, JVP and the Peratugamis plus Anthare were behind it from the start. Now we know that the funding came from Tamil, Islam, Christian agencies abroad to create and sustain it. Ven. Omalpe Sobitha's participation of an almsgiving and two of his bearded monks taking Vas (retreat of monks to temples during rainy season) at the site, while all kinds of nefarious acts including planting marijuana taking place, are examples of trying to give a shadow Buddhist twist to an otherwise international and local conspiracy which was nakedly anti-Sinhala Buddhist.
Ranil W (2022) and Abraham Lincoln (1861)
History and geography allow one to see the trees as well as the forest; for one to get a holistic picture of a given phenomenon, as if one is in a helicopter looking at the landscape pattern below. For example, those opposing 'Ranil as President,' do not know what had happened to Abraham Lincoln. He was for the slavery during his election campaign in 1861. But he was assassinated in 1865, for the sin of ending by war the inhuman system of slavery. Similar about turn was taken by Ariel Sharon after 2003, to withdraw Israeli settlements from Gaza which he aggressively promoted previously as a military leader. He used force to dismantle Jews housing and the settlers in turn tried to kill him, their new enemy.
The Path-Finder path (minus MCC Trojan horse)
If Victor's program is like Milinda Moragoda's plan on the economic front, such as reducing the public service employment from 1.5 million to 0.7, or selling failing state corporations, this is the best opportunity to do that by hiding behind the IMF dragon (by the way, IMF could not rescue any bankrupt country in the world. Refer books by ex-civil servant Garvin Karunaratna on this subject). But if his program has a hidden political agenda such as reinvention of the balkanization plan of Mrs. CBK (Neelan-GL package deals 1994-2000) or its ghost, the yahapalana draft of OrumitthaNadu in 2018 and pumping dollar oxygen for ISGA (October 2003) or P-TOMS (June 2005) tricks, allowed under the infamous CFA (2002), then it will be a life and death issue for the Sinhala Buddhists.
The Lichchavi Rule
With the changed, unexpected, and unusual political and socio-economic climate prevailing in Sri Lanka today, it is only a matter of genuine conviction that Ranil is needed to demonstrate to the Sinhala Buddhist people, who trusted Gotabhaya in 2019 as their non-politician midwife, to undertake a system change, to replace him now and become a true, enlightened Lichchavi ruler, unlike the days of the failed yahapalana episode. After all, the late Lakshman Kadiragamar was not a Buddhist, some thought he was a Tamil Obama, but monks visited his funeral to give පාංශකූල. This flexible attitude is based on Metta-Karuna-Muditha-Upekka (මෙත්තා-කරුණා-මුදිතා-උපේක්ඛා) qualities of a Buddhist. Unlike the Marxists in the 1940s to 1960s Ranil did not say King Dutugamunu was a fool of bricks for building the Ruwanweli Maha Saya. But Sinhala Buddhists who trusted the non-politician Gotabhaya as their midwife to deliver them justice that they lost in 1815 and cheated out since 1948, with his one country-one law project and the Jana Muula Sabha concept (ජන මූළ සභා) do not wish to think that they fell from frying pan to fire.
NM-Colvin-Leslie and Mrs. B
How a panchaskanda: පංචස්කන්ධ -an individual formed by five aggregates- (with Lobha: ලෝභ [greed sensual attachment]- Dvesha: ද්වේශ [aversion, hate]- Moha: මෝහ [delusion, confusion]), could shift gears from one mental construct (ideology?) to a totally opposite one especially, in the world of politics, has some known local examples. In 1958, Mrs. B was dead against her husband's (Philip Gunawardena's) Paddy Lands' Act, but in 1972 she gave up thousands of acres of her inheritance under the Land Reforms Law sponsored by herself. It took NM & Co. 30 years (1935-1964) to give up their belief that religion is opium and visit the Dalada Maligava (DM) carrying lotus flower trays. On the other hand, S. L Gunasekara who was instrumental in forming the JHU, did not wish to make the traditional visit to DM because he was an atheist, which some considered a politically incorrect stand. The contrast here is what Ronnie de Mel or Rajitha Senaratne did in changing political parties, that could be identified as R-R Syndrome. On the other hand, in 1818, Kappettipola Disava, who was sent to suppress the rebellion sent back his weapons and joined the rebels. The British admired his behavior and took his brain for research, he became a national hero in Sinhala history.
Victor's world
With his Judeo-Christian perspective on Sri Lankan history, it is important to try to read between the lines of Victor's essay. Victor has been a friend of both the Christian church and Sarvodaya, but his many writings and talks do not give the impression that he understood the Sarvodaya philosophy. Victor's many works anchor mostly with his caste discrimination thesis, but I have not seen, the destruction brought to Sri Lanka by a black-white ruling class hitting his analytical radar even once. He missed this history bus! Such balanced, if not enlightened, outlook is possible only if one tries to see the history of Sri Lanka not as Portuguese, Dutch or English periods but as a story of the never-ending conflict between whites and black-whites on one side and the Buddhist temples on the other. For example, since the days governors North (1802) and Brownrigg (1815) it began as a campaign that Buddhism was a false religion, and only in 1873 after the Great Panadura Debate, this officially subtle and unofficially open attack was buried but not killed. Hence, we see organized (or simply badmouthing) multi-prone assault on the institution of Buddhist Sanga is in vogue even in 2022.
In Victor Ivan's words (Daily FT, August 5, 2022) [Ranil] is now destined to be the person chosen by the history, not by the public, to play the role of opening the doors of the state for a program of structural reforms for a 'profound change in the system.' Victor knows what structural reforms are in store, because apparently Gotabhaya as well as Ranil accepted the reform plan submitted by him to both. And Victor was never a sympathizer of the plight of the Sinhala Buddhists treated like the proverbial kind-hearted women (හිත හොඳ ගෑණු හැමදාම pregnant) by the black-white Oh My God! Sinhala Buddhist politicians. Black-white Buddhists were never බුදු අම්මෝ Buddhists. The difference is when faced with fear of death what comes involuntarily out of one's mouth.
Ranil's plan or Victor's plan?
A disturbing fact in this regard is that Victor's plan has fingerprints of the late Mangala Samaraweera, a notorious soul of the Anti-Mahavamsa movement (AMM). Victor was a supporter/adviser of Mrs. CBK, another ardent AMM activist, an association ended with him writing an infamous book called the Queen of Deceit. Mrs. CBK and Rosy Senanayake are for the ending of the Sinhala Buddhist foundation in the island. After 1551, when Don Juan Dharmapala became the first and the last Christian king of Ceylon, it was Cardinal Malcolm Ranjith who rejected this political view in 2016/7 and recognized the shelter provided by the majority community for others to thrive.
Unlike Richard de Zoysa or Lasantha Wickramatunga who made fatal mistakes on their part, Victor, the investigative journalist, was shrewd enough to protect himself, for example, from the wrath of R Premadasa by getting behind the shadow of the British diplomat. His assault on Buddhist monkhood was no different from what Ranjan Ramanayaka did during the yahapalana days. His book titled, the Revolt in the temple- පන්සලේ විප්ලවය (2006) was an extension of his caste thesis to the institution of Buddhist Sanga, culminating in trying to prove that Ven. Gangodavila Soma's death in Russia (December 2003) was not a case of murder. His character assassination of the monk was so cruel that the monk was depicted as a person troubled with a secret love affair. Victor was neither a W. S. Karnaratne nor a K. N. Jayathilake, to undertake an in-depth analysis of Buddhism, Buddhist psychology or the institution of Sanga. Yet, in his book he was offering unsolicited advice on how best to reform and correct the 'defects' that he was able to 'discover' in the බුද්ධ ශාසනය. This book must be a contractual product, just like the Abusali family got a foreigner to write an Arab-Islamic version on the origin of the Kuragala temple ruins.
Victor Ivan in 1971 and 2022
When Victor was playing the role of Podi Athula (later the 7th accused), I was one of the 200 civilian officers utilized by the then government for the task of recording statements from JVP rebels, captured and surrendered. I was only 25 years old at that time and witnessed how all or most leaders of JVP avoided the battle fronts leaving the dedicated youth to fight and die. Some of these leaders such as Lionel Bopage and Jayadeva Uyangoda ended up enjoying thriving lifestyles. The point is that Ivan now tells that 1971 JVP insurrection was a stupid idea, whereas I saw it so even before 1971, when one or two village boys that I knew tried to convince me to come for the five classes.
Victor says Ranil has accepted his plan without any reservations. Therefore, knowing Victor's past activities, it is nothing but reasonable to be cautious on what is in store for the country, especially for the Sinhala Buddhists. The chaotic and pathetic atmosphere now prevailing in the country, has given Ranil a golden opportunity to undertake major surgery to correct the sins of mismanagement by the black-white ruling class for 74 years. A system change means change of so many systems, major and minor. For example, the present sub systems of lawyers, doctors, university teachers, private tuition by government teachers, all must change. But under the guise of system change, the Sinhala Buddhist heritage of this island should not be ruined. Such attempts were tried in the recent past.
Victor was a supporter of such attempts. His Judo-Christian and Marxist approach has always conflicted with the Middle Path and the Jathaka story-influenced way of Buddhist living. Victor is a member of the black-white club of Dayan Jayatilaka, PakiyasothyS, Nirmal Devasiri, Jehan Perera, Rajitha Senaratne, Jayadeva Uyangoda, Lal Wijenayaka, Ravi Karunanayaka, Jayampathy Wickremaratne, Marxists of all type, G. L. Peiris, DallusA, DilanP, SagaraK of pohottuwa, to name a few. Actually, all those knowingly or unknowingly supporting the 13th Amendment are black-whites of the Anti-Mahavamsa Movement.
Examples from the system change story in Sri Lanka is helpful in understanding what is in store for the system change talk now in everybody's mouth, hiding the real changes needed at the grassroot level and in individuals' mind and behavior.
*1. From the Yakka-Naga (Ravana?) Pandukabhaya system to the system introduced by Arahant Mahinda in the 3rd century BCE
*2. Colonial system (1802 à 1815 à 1832à
*3. From Colebrooke system to Donoughmore sub-system (communal/nominated to elected MP system) -1931-47
Between examples 3 and 4 happened something, which is relevant in 2022.
The Temperance Movement was a kind of protest against the colonial system. Anagarika Dharmapala revamped it and floated an island-wide campaign on how to escape from a colonial mindset. Following his suggestions and actions, Ven. Kalukondyave Pragnasekera Thero developed a Village Reconstruction and Crime Eradication program in the 1930s-40s. White and black-white rulers sabotaged it.
*4. Attempt made to change the system in 1956 (1959 SWRD killed, 1962 police-navy Christian coup); system adjustments tried again 1960-65
*5. JVP attempt to change the system by murder in 1971
*6. Doctrine of separation of powers changed to rule by political party in power (1972 republican constitution); Failed effort to introduce workers/people's advisory committee system to governance system; District Development Councils strategy also failed
*7. Change from Westminster system to a Bahubootha system by JRJ in 1978; change to a free-market economy giving rise to an era of big fish-eating the small fish in all spheres of human living; privatization promoted against state enterprise; representative democracy destroyed with a new system of elections; presidents became prisoners to a single MP under a 112+1 formula
*8, Sinhala Buddhists fed up with black-white party system of corrupt politicians, elected in November 2019 a non-politician as their midwife (like in 1956) to overhaul the system, an experiment gone haywire
*9. Exploiting this chaotic situation two contrasting elements (1) JVP-Peratugamis and (2) the foreign-funded, Eelam/Sharia Colombo crowds and Facebook-Twitter generation, was able to get the farmers to Colombo to topple the SYSTEM. But it boomeranged. As in 2013-14 days MangalaS' plan in 2019 worked, and at the end (also with a little bit of luck as SajithP and SarathF were blind) Ranil won. It appears that those who genuinely wanted a system change will not get a system change. Instead, they have to bite the bullet and live in a balkanized Sri Lanka. So much for the ethnic harmony and unity celebrated at the Galle Face Greens!
* 10. One last hope for genuine Aragala boys and girls is to agitate for a system of people's councils by which balkanization attempts could be frustrated. The danger now is for few billion dollars ISGA and P-TOM ghosts could swallow the giant cabinet of ministers.
Buddhist Middle Path
Part 2 of this essay plans to discuss about the two troubled worlds of (1) Victor's and (2) DayanJ's, and the solution to those two the (3) Panchayathi (Jana Sabha) world. It is an educational piece for Victor to understand that a system change in a society cannot happen unless each individual is (directly or indirectly) linked with the concept of system change in his or her own life/living (after eating a candy put the wrapper in the shirt pocket not on the pavement!). Gandhi and Mao applied this human concept in two different ways. Our own Buddhist philosophy professor W. S. Karunaratna said this from JRJ'S election platforms in 1977: the need to have an external as well as an internal revolution. By 1947 Gandhi wanted to disperse the Congress Party and begin a rural reconstruction program. Nehru and Rajendra Prasad did not like it.
Mao also accepted Gandhi's idea that a continuous spiritual transformation is needed to create a just society: to overcome dehumanization of urban bourgeois living and selfish mundane desires; get rid of material self-interest and practice self-sacrifice. To Gandhi self-sacrifice was an end itself and not a vehicle for other aims. For Mao the purpose of self-sacrifice was to serve the nation state and its people (HOMO FABER: Technology and Culture in India, China, and the West- from 1500 to the present day, C. A. Alvares, 1980, pp 195-199).
Gandhi's 1947 plan was outside politics and government. But Mao's method was based on rules of revolution and social change. Gandhi planned to start a new civil disobedience movement (against the elites of the kind like Nehru and Rajendra Prasad!), but he faced an untimely, tragic death
300 million people are still under abject poverty in India. Mao won, but as the National Geographic Special Issue, China: Inside the Dragon, May 2008 records, the rise of China one sees from outside is, from inside a tiger's tail of unlimited growth copying the western model, harming its people. Thus, the Huang He River ends near the ocean as world's deadliest mud canal filled with cancer causing chemicals and waste (pp. 147-168).
References:
සුද්දගෙ නීතිය අපිට එපා, 2022
රට කැබලි නොකර සිස්ටම් චේන්ජ් කිරීම (බුදු දහම හා ජන සභා සංකල්පය), 2022
ලංකාව: කළු සුද්දන්ගේ පාලන සමය, 1948-2019 (මන්ත්‍රී ප්‍රජා-තන්ත්‍ර [නාස් ලණු] වාදය, 2022