Balkanization of Sri Lanka & Victor Ivan's plan (part 2)
Posted on August 28th, 2022
C. Wijeyawickrema, LL.B., Ph.D.
(Note: Editor@ft.lk – This essay is an explanation regarding Victor Ivan's guest column. If you are unable to print it in your newspaper, kindly forward it to him.)
Who wants a 'state religion'?
The Buddhists wish—and quite rightly—that in this country where they form 70 percent of the population, Buddhism should be recognized as the predominant religion of the people. In the rest of the world, Ceylon is regarded as essentially a Buddhist country, and they want this claim established here as well…They will not be content to remain in the position of inferiority to which they have been reduced by 450 years of foreign occupation… They have no desire to make Buddhism the State religion—in spite of the cry raised by self-seeking politicians— but they want the State to help them rehabilitate themselves and undo some, at least, of the injustices perpetrated against them during the days of their subjection."
(quoted from a speech by Professor Gunapala Malalasekera, President of ACBC reproduced in Times of Ceylon, January 15, 1956, and referenced on page 196 of the book, Ceylon: Dilemmas of a New Nation, by W. H. Wriggins, Princeton Univ. Press,1960)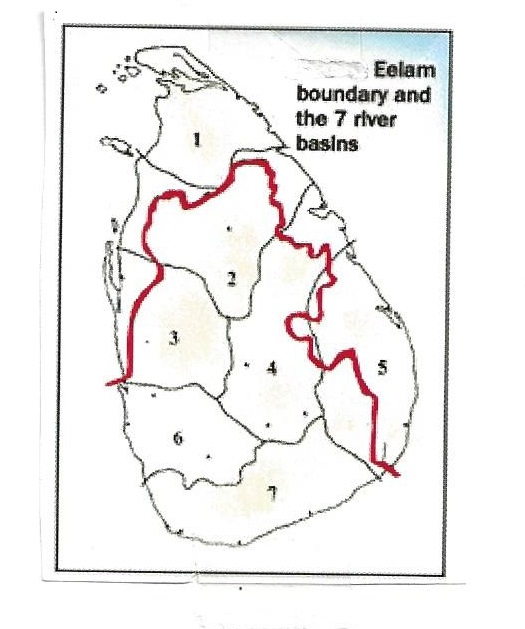 Map above shows the seven major river basins in Sri Lanka identified by geography professor M. C. Madduma Bandara. Thick red line delineates the Eelam boundary of the 'Tamil homeland'. Short red lines in basin no. 4 indicates its potential MALAYANADU component, espoused more recently by ex-CM of NP, C. V. Vigneswaran and Indian PM Modi. It is currently buried by a 50-billion-dollar ISGA/P-TOM type trap.
1.Yalpanam, 2. Raja Rata, 3. Dambadeni, 4. Mahaveli, 5. Deegavaapi, 6. Kelani, 7. Ruhunu,
Introduction
In part 1of this discussion covered several matters: (1) the death of GF Aragalaya, a conspiracy against the Sinhala Buddhists resurgence in 2019 (like SWRD in 1956, Gotabhaya was its midwife, not owner). (2) failure of previous attempts for system change (3) Victor Ivan's caste and Marxist approach to Sri Lankan mismanagement crises (4) Victor's bias against the Buddhist Middle Path and the Jana Sabha concept, which must be followed to effect a change in an individual's mind and his/her societal behavior and (5) Buddhists' wish for a system change by evolution, not r-evolution, the difference between the approaches of Gandhi and Mao.
Victor Ivan and Dayan Jayatilaka are twin 'theoreticians' living in a Judo Christian-Marxist world with an anti-Mahavamsa agenda. Accepting Sinhala Buddhist civilizational norms, like what Cardinal Malcolm Ranjith did in 2018, a long lapse of time from 1551 (when Don Juan Dharmapala was the one and only Christian king in the island), young Uvidu Wijeweera rejects this ideology, perhaps a direct result of his father's last wish when the army captured him. He asked his wife not to baptize the children. Thus, they grew up knowing what Buddhism is. Uvidu's mother could confirm or deny this story we hear. However, Elle Gunawansa Thero once said that Somawansa Amarasinghe wished to follow Buddhist way of living, including giving a පාංශකූල after his death.
In countries such as Korea, Vietnam there are dog farms for dog meat. Chinese eat cats. But Sinhala Buddhists eat meat with much reluctance. Most of them face a dilemma. New generations run for KFC/MacDonald's not knowing that in the USA new generations avoid beef. Besides, for them selling the cow that nourished them with milk as meat when the animal is old is not an easy business deal the way Victor Ivan sees it. For Victor, God created animals for the benefit of man/woman to kill and eat them. For a Buddhist an animal is part of his/her environment and Buddhist compassion extends to all beings, including trees and rocks. The science of how human body functions discourage excessive consumption of animal products. When Victor says that only 10% of animal should be allowed to live it conflicts with Victor's other correct view that Sri Lankan society is so uncivilized that they have foul mouths. In no other country politicians and people insult presidents/PMs violating Samma Vacha (correct speech) of the Noble Eight-Fold Path as in Sri Lanka today.
As mouthpieces of black-whites, these two souls (පංචස්කන්ධ), Victor and Dayan, twist western ideas such as rule of law, interfaith fraud, pluralism/multi-ethnicity, non-majoritarian solutions, and R2P/IMF as tools to promote their target of balkanization of Sri Lanka. In this part of the essay, both are challenged to come and examine (not believe- එව අදහව නොව, එව බලව -ඒහි පස්සිකෝ) the Jana Sabha world, peoples' councils (මහජන සභා), demanded by the more reasonable and pragmatic factions of the buried (but not dead) Aragalaya. Instead of the slogan Gota go home, if they demanded Gota to implement his own election manifesto of Jana muula Sabha, Aragalaya would have become a successful reform movement. Sadly, they did not receive wiser guidance. Jayadeva Uyangoda and Nirmal Ranjith Devasiri misled them by placating them stating they came to learn from the (bearded) boys!
If Ranil+225 do not act wisely, Libyan- Lebanon type anarchy is in store for the country. Instead of the 13-A+ path, politicians must go back to pre-1978 local government system strongly recommended by the Abhayawardena local government reforms commission report in 1999. If Ranil is genuine he could act swiftly to take simple steps which will make major changes. There are so many simple, straightforward, system-killing solutions proposed by so many other citizens such as ex-AG Gamini Wijesinghe, ex-civil servant Garvin Karunaratne, environmentalist Thilak Kandegama etc. before trying to please the minority MPs or the Geneva agency. Ranil needs to appoint a team to collect all these suggestions and examine them.
Victor's Euro-centric world
In his lifetime of writing, Victor never tried to understand the internal decadence and external threats faced by Sri Lanka, especially the Sinhala Buddhists. Why he avoids or ignore them must be a strategy he follows copying the late Mangala Samaraweera. This kind of perspective is possible when one escapes from a Euro-centric, black-white mindset of looking at Sri Lankan history as periods of Portuguese, Dutch, English and independent (or Colombo Paradigm). As a Sinhala Buddhist following the Buddhist Middle Path, free of Judo-Christian influence, I was contemplating why Buddhist monks faced such harsh treatment in the hands of Sinhala politicians, after 1995, especially during the yahapalana days of 2015-19. Anyone taking this out of the box approach could see country's history after 1802 as a story of an unending conflict between white/ black-white rulers and the temple. There is clearly identifiable pattern of ideological conflict zones. I was able to identify 13 overlapping phases of this history. I emailed this list to Pathum Kerner of Aragalaya on May 28th expecting him to come down from his utopian world of London to the real world of mismanaged in Sri Lanka. Listed below are interconnected phases with the names of the leading monks:
*1. Buddhism is falsehood (1798-1873) – Variyapola Sumangala/Migettuwatte Gunananda
*2. Buddhism on deathbed (1840 —–à ) – Valane Siri Siddhartha
*3. Olcott-Anagarika Dharmapala (1880-1915) – Hikkaduwe Sumangala
*4. Donoughmore Era (1931-1948) -Vidyodaya social service (Kalukondayawe Pragnasekera)
*5. Vidyalankara national service (1946—à) – Vidyalankara Declaration, Heritage of the Bhikku – Yakkaduwe Pragnasara/Walpola Rahula
*6. Pancha Maha Balavegaya (1956-59) – Henapitagedara Gnanaseeha/Baddegama Wimalawansa/Kotagama Vachissara/Kalalelle Ananda Sagara
*7. The Dark period (1960-78) rise of federal/Eelam demand, destruction of country by Sinhala political parties
*8. The Unjust Society (1978-2005) -Maduliwave Sobhitha/ The Gatambe (Peradeniya) monk
*9. Ven. Gangodavila Soma phenomenon (2000-2003)
*10. Pirith nuul ropes on wrists period begins (2004 —à) – Elle Gunawansa/Athureliye Rathana, JHU
*11. Meteoric rise of the Bodu Bala Sena (May 2012—à) Galaboda-atte Gnanasara
*12. Asgiri Declaration and Notice (June 20 & July 4, 2017
*13. Rise and fall of Sinhala Buddhist awakening (2019 presidential Election)
Some salient features gleaned from the historical stages mentioned above.
Each stage had a monk or several monks who played a catalytic role.
*1. Such monks faced threat of assassination (Ven. Velivita Sri Saranankara Sangha Raja [1698-1778] was the first target in this era).
*2. Buddhist monks did not oppose Christian missionary work; instead, they facilitated these pastors by hosting them (Juse Vaas was protected by temples from the Dutch).
*3. 1815 Convention was a fraud. Brownrigg had no intention of following it. The ruler secretly supported anti-Buddhist attacks by Christian pastors and sabotaged the temple education system then in vogue.
*4. The black-white class was an invention of McCaulay (Indian Education Minute of 1835). Governor North supported this idea of educating sons of local blck whites to serve as spies. This was officially implemented after Colebrooke's recommendations in 1832, and Royal college, St Thomas college etc. started. When this was taking place Ven. Valane Siddhartha moved from Panadura to Ratmalana and started Parama Dhammachethiya Pirivena in 1842. Pupils of this pirivena established Vidyodaya and Vidyalankara. The learned monks of these institutions saved Sri Lanka from relentless white and black-white assault.
*5. Olcott came in 1880 and he was considered a Bodhisatva. But whether the school education system he created helped the country in the long run is now in doubt. It was a copy of Christian education. Leadbetter was a Christian priest before he came to Ananda college, he left it and lived as a Christian priest.
*6. The role played by monks in national affairs ended after Olcott's interlude and the Buddhist Theosophical Society with English-speaking laymen eclipsed them. By 1911, the two-family model that the British used to facilitate civil control (Obeysekara- de Saram and Kumarasuriyar) had to be replaced by a new foreign educated sons of local black-whites.
*7. The 1915 Muslim-Sinhala clash paved way of a new crowd of nobodies to become somebodies in black-white politics. Anagarika Dharmapala understood this black-white phenomenon, but he was mercilessly attacked by new black-whites including D.B. Jayatilaka and D.S. Senanayaka aided and abetted by the white masters. What is happening to the monk Galabodaatte Gnanasara of BBS and to the Asgiriya monks today is reminiscent of what the establishment did then to Dharmapala.
*8. From 1910 to 1956 mostly Christian Sinhala black-whites and Christian Tamil black-whites handled and messed up affairs of the country. There was no place for monks in the system of politics. Instead, the role played by the Vidyalankara monks in the 1940s was branded as work of political monks by the Sinhala black-whites.
*9. From 1933 onwards Vidyodaya monks led by Ven. Kalukondayawe Pragnasekara implemented a national plan for crime control and rural reconstruction in Ceylon, which became a successful model for the country but it was sabotaged by the white and black-white ruling class. To destroy this movement, black-whites tried to bring in religious factor and went to the extent of throwing mud balls at the young ASP supporting it, digging into his private life. He later married the daughter of the IGP. This sabotage was like what government ministers did to kill the Gami Diriya, villager-centered rural development program, operated free from partisan politics. Instead, a Divi Neguma monster was imposed.
*10. By 1956, the Olcott-influenced Sinhala Buddhist laymen were in such helpless situation, they went begging to Dudley Senanayaka to come to their rescue who in turn told them to go to SWRD. Previously, DSSenanayaka with the Section 29 of the constitution, sarcastically rebuked them stating there is no Fourth Refuge called Anduwa Saranam Gachchami.
*11. From 1956-2002, what we saw was governments internally controlled by black-white Christians, projecting to outside world a picture of implementation of a program of Sinhala Buddhist affirmative action. Removing Sunday weekend, making the two pirivenas universities, making Buddhism government's foster child, creating a Buddhist ministry while removing history and geography from school curriculum, these were all fake, un-Buddhist action to cheat the masses, generating fodder for anti-Buddhist forces.
*12. The silencing of Anagarika Dharmapala, sabotage of Vidyodaya monk Ven. Kalukondayawe's program and branding of patriotic Vidyalankara monks as political monks, the use of robe in a coup to murder SWRD, all these had their negative affects until the rise of the Ven. Soma phenomenon in 2000. Then, in May 2012, Bodu Bala Sena came to point out how Sinhala Buddhist black-white politicians treat Sinhala Buddhists just the way some men treat kind-hearted women.
*13. From 2012-2017 Bodu Bala Sena monk Ven. Gnanasara became a target of attack for his Dharmapala method of exposing politicians' game, and the government's sinister attempts to kill the messenger came to an end with the Asgiriya Declaration in July 2017.
*14. The subject of this essay, the clash between black-whites and the temple has now come to a climax with Wigeswaran asking <federal> before the Asgiriya monks, Christian Marxist Dayan Jayatilaka promoting 13-A, and two ardent half-Christian Marxists Lal Wijenayaka and Jayampathi Wickremaratne re-submitting the 1995-2000 CBK Sri Lanka balkanization plan with titbits taken from the Tissa Vitharana APRC majority report of 2006. Asgiriya monks informed the government that there is no need for a new constitution at this time, but the government is not listening, most probably because of American pressure. Only clear voice against this propaganda comes from Nagananda Kodituwakku, who says he will abolish 13-A if he becomes the president.
(Reference: LankaWeb – අස්ගිරි විප්ලවය (July 30, 2017)
Some aspects of the Internal Crisis that Victor ignores
*1. Divide and Rule of Sinhala people based on red, blue, yellow, and green colors by black-white party politicians. They did it better than the white masters.
*2. Assault on the village creating a society of beggars with inferiority complex. Voter became a slave of local politician.
*3. JRJ and RP giving birth to (මත්ස්‍ය න්‍යාය), big fish swallowing the small fish all in the name of free market, liberal economics. Money Is God's younger brother (සල්ලි දෙයියන්ගෙ මල්ලි).
*4. Fear of death silently absorbed by people due to a 30-year war resulted in creating an atmosphere of men/women nakedly selfish and unashamed of their openly immoral conduct (හිරි-ඔත්තප්ප හිඳීයාම/වාෂ්පවී යෑම).
*5. The corrupt system of exploiting women by sending them to Arab homes to be used like slave labor. This often resulted in disrupted local families, children neglected and men going after other women. Dollars remitted after cleaning toilets etc. used to import chicken from Holland and export stupid children for overseas degrees.
*6. Garment factories, which provide no industrial base for a country's development robbed village girls' youth for a useless manual labour. Often, they became sex objects of cunning supervisors.
*7. Creation of a three-wheeled generation, lazy to learn any other vocation except dreaming to escape to Korea, Arabia etc. not knowing the hard life awaiting them.
*8. Use of university students as slaves/robots by Marxist politicians
*9. Unprofessional conduct of university teachers, lawyers, and doctors to name a few.
10* Ruination of young lives' natural right to play and grow by competitive 5th grade scholarship race, OL-AL competition, and a country-wide tuition system
Victor is blind to External Threats
*1. World Christianization Movement (in SL-unethical religious conversion)
*2, World Islam Expansion Project (in SL- Arabianization, sharia-wahhabism, ගර්භාෂ යුද්ධය (promoted by Yasser Arafat & Gadhafi-when a Muslim child is taken out of the womb Dr. Shafi holds it up and thanks Allah!)
*3. Tamil country with a UN flag (Eelam Project)
*4. Multinational-Corporate invasion (creating conflicts and financing them)
*5. INGO-NGO agents (unlike in India, inability to monitor/regulate them)
*6. Foreign intelligence agents and dollar-paid local field agents
*7. Open interference in local affairs by foreign embassies
*8. Interfaith invasion (monk eating with Islam Lebbes at the same table)
*9. Path Finder & MCC Trojan Horse.
*10. World Trade Organization and piracy of plant rights.
*11. Geneva HRC as an agent of new imperialism
Dayan's Eurocentric mind = 13-A + Formula
Dayan is popularly known as the father of 13th Amendment plus formula, political advisor to Sajith P, is not exactly a replica of Victor. Instead, his Anti Mahavamsa logic is more in line with Tamil-Christian-Marxist Kumar David's. They oppose monks doing politics. But Kumar David influenced the American Ambassador Sisson to visit Ven. Maduluwawe Sobhita with atapirikara!
DayanJ still believes that 13-A+ would end the hunger and anger for a Tamil Eelam. He thought there are Tamil moderates. His prime choice for the NP-CM post therefore, was Vigneswaran, who disappointed and betrayed him with many Tamil genocide resolutions passed by Vigs as CM. Previously Dayan was with Vartharaja Perumal, an affair ended with Dayan escaping to TamilNad when RPremadasa wanted to catch him. Later RP pardoned him, and Dayan became a loyal disciple of RP. That was long before he crept into MahindaR's politics, until he was fired from UN Geneva job for betraying MR on the issue of 13-A+ which MR did not support. His attempt to get on to Gotabhaya's Viyathmaga bandwagon failed, and the next move was touting Dinesh as presidential candidate. For some reason Ranil hates him, but Sajith adores him. Readers need to know this kind of chameleon-like gymnastics of souls.
Dayan blindly believes western game of solving ethnic disputes with what is called non-majoritarian solutions. His godfathers in this case are Donald Horowitz (Ethnic groups in conflict, 1985/2001) and Joseph Nye (Soft Power, 1990, two American professors. Nye popularized the term Soft Power in his book, Bound to Lead: The Changing Nature of American Power stating, "when one country gets other countries to want what it wants [it] might be called co-optive or soft power in contrast with the hard or command power of ordering others to do what it wants". It is this <smart power> USAID deploys by giving dollars to the Sri Lanka Bar Association for genuine-looking projects or to nefarious NGOs to do the field assignments. In Pakistan even army generals are on dollar pay.
Thus, a combination of Horowitz-Nye formulas is a deadly cocktail that black-white types living in former colonies drink with mesmerizing effect. For example, SajithP once talk about this non-majoritarian path in the parliament as if it is a panacea for all ills the country is faced with, tutored without doubt, by his trusted advisor Dayan! 13-A is one such method where minority politicians, not minority people, are empowered. For the peace and good governess of their colonies white rulers adapted a policy of divide and rule. Now white professors want to unravel the mess these masters created in the past by giving the divided people separate countries via the R2P path. 13A is one such example. The end is Eelam whether by way of land and police powers or new ISGAs by way dollar bills after RanilW became the president.
Make majority, minority
White man after capturing Sinhale in 1815, followed a policy of favoring Tamils. In 1832 he made Sinhalese and Tamils equal in the Legislative Council. By 1921, when increasing voting rights made it unnatural or ludicrous to follow this undemocratic policy, Governor Manning in 1924 introduced a new plan to balance the Sinhala majority with a combined minority, stating that no one community should be allowed to impose its will on the other communities.
Our heritage
Sinhala Buddhist civilization survived in this island for over 2,500 years with an ecological model, a Trinity of village-tank-temple. Over 40,000 village names we find today is evidence of this Trinity with collections of such villages/hamlets. Gamsabhava from the times of king Pandukabhaya was this political unit. Unfortunately, American professors like Donald Horowitz, who write about nonmajoritarian solutions to minority human rights, never mention about the Gamsabha institution in Sri Lanka or the Panchyathi Raj in India. Even the new book, why nations Fail Instead, those who implement western proposals soon end up splitting into separate countries at war. Best example is Sudan from which a South Sudan sprang up, now in total ruin and starving with no white expert to help. 13-A path will take Sri Lanka on this Sudan trap. Suffice it to say that so far, no country treated with this medicine escaped from the separation trap that Horwitz advocated.
The idea of two Tamil and Muslim Vice Presidents is in line with the new game called meaningful devolution" by way of unmajoritarian institutions." This became so popular during GL-Neelan package deal days and CBK's several versions of such deals. This method promoted by white Eurocentric writers like Donald Horowitz creates regional ethnic minority elites and slowly weakens the central governments in former colonies (it may take a decade or two or more), until a new Kosovo or South Sudan (or even a separate country of Scotland) is established splitting countries. Thus, the new policy of creating unmajoritarian institutions" is a sanitized" version of the old divide and rule policy, providing ladders to separatist monkeys to carve out separate countries at each other's throat. Already, South Sudan started an internal war. Rohan Gunaratne from Singapore University used to promote a quota system for different ethnic groups in the army, police, government jobs etc. These are sure methods of breaking up of Sri Lanka.
This portion of the essay is giving Victor a sufficient dose of facts to think anew free of the late MangalaS' ghost. Next essay expects to take Victor and Dayan on a Jana Sabha trip, the Buddhist Middle Path.