Colombo University Law Students disgraceful behavior should be condemned by all
Posted on May 4th, 2018
By shenali Waduge
The University of Colombo Law students think they have done a job extraordinaire in the manner they have replaced the traditional Sinhala New Year festive game of placing the eye on the elephant to place the eye on the former President Mahinda Rajapakse. We do not know whose bright idea this was, but for university students in particular law students to stoop so low is utterly despicable and a disgraceful act that every citizen must deplore with condemnation. Are these the students, having benefitted from free education who are to be regarded as the future generation? In stark contrast we can compare to another state university where students and lecturers hold candle lit vigils for terrorist leader Prabakaran & LTTE terrorist cadres. These are the other lot of future coming out. Where will this country end up is our biggest question in viewing these extremes?
These pictures of the manner Law Students of the Colombo University celebrated the Sinhala New Year will no doubt shock every one. Of course there are many messages to be drawn from these, the most important of which is that a paper qualification does not necessary make a person 'educated' one's behavior & actions do.
Many of these are coming from rural homes, where parents have toiled & fallen into debt to educate their children. While many of these parents continue to toil away their children are either on the streets in demonstrations or doing everything but studies. Many of these students are victims of the JVP mafia system continuing inside all universities. These JVPers jealous of any person rising in life follow a sadistic path of brainwashing new entrants, ragging them to mentally ruin their lives, ensnaring them into illicit relationships that leave them distraught and angered with society – it is a complete dehumanizing of innocent individuals to which the academia in their silence and inability to take the bullies and throw them out of university, too stand guilty.
We have had enough of occasions where ragging has gone out of hand why has it been difficult to catch the culprits suspend them and banish them from university before they are able to create a mafia within the university system? Is it that the lecturers themselves prefer when the universities are closed?
The statistics clearly reveal that the standards of Sri Lanka's universities are declining not only in educational standards but in the quality of the students that are passing out & by the manner the students of the Colombo University Law department have celebrated the Sinhala New Year we are not in the least surprised.
These students are all in the twenties and they are old enough to know what kind of life people led before 2009. Many of them would have gone to school in fright, many of their relations would have died when LTTE blew up buses or trains, being rural youth many of their relations would have joined the armed forces some may have returned in a box. We cannot forget that 30 year old past just because some hate the man who gave orders to end the terrorism that prevailed.
Whether people like it or not, only one President had the guts to stand against foreign pressures to give order as head of the armed forces to finish off the LTTE. None of the previous Presidents had the guts to do so – JR didn't, Premadasa gave arms to the LTTE and kept them in Hilton hotel, CBK's 2 terms saw the most number of dead soldiers while the present PM was happy to sign territory to LTTE.
Therefore, no one can belittle what President Rajapakse did as President. If he hadn't given the orders to proceed even the best of military cannot on its own finish off the LTTE. This is what everyone needs to be made clear of. No military, no army commander could have defeated the LTTE unless orders to do so came from the President and the President undertook to answer the international community while obtaining the arms & ammunition necessary for the military to do their job, for that we have to thank China & Pakistan for the role they played in helping Sri Lanka end terror.
Therefore, when a bunch of students giggling away and thinking they are doing something big by placing the eye on the very President that ended 30 years of terrorism, they must feel ashamed to see their faces now circulating all over the social media and no doubt their parents must be feeling embarrassed as well.
Even if these events are organized by mischief makers foreign or JVP, as law students if they do not have the pluck to refuse to be party to it, then as adults and as future lawyers we can only fear what type of law & order they will usher.
This is not the future generation we want to see passing out. Definitely not the students coming out of Jaffna university lighting candles for LTTE or the present lot of students mocking the very President that finished the LTTE.
All citizens must deplore this act and the university authorities must take some stern action and these students must in the least issue an apology to the former President.
People may not like him but no one has the right to ridicule him for we are all living without LTTE suicide, LTTE assassinations, LTTE bombs because of President Mahinda Rajapakse and the team he chose to end terrorism.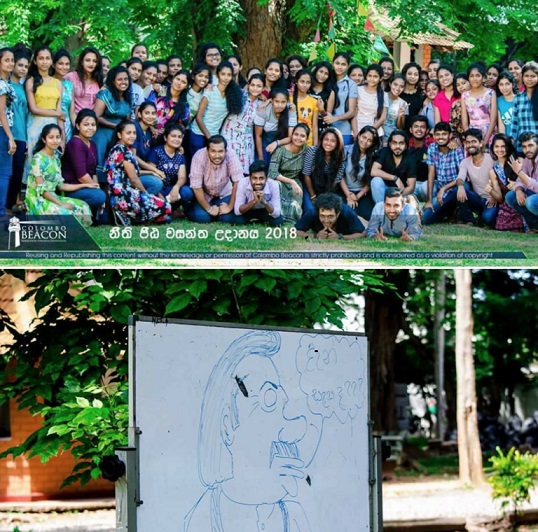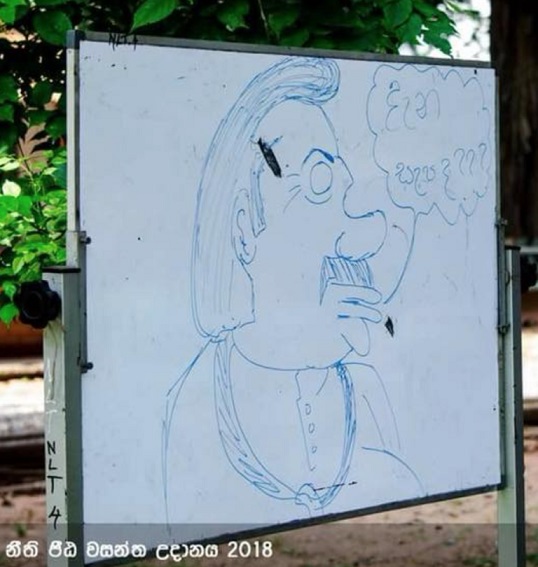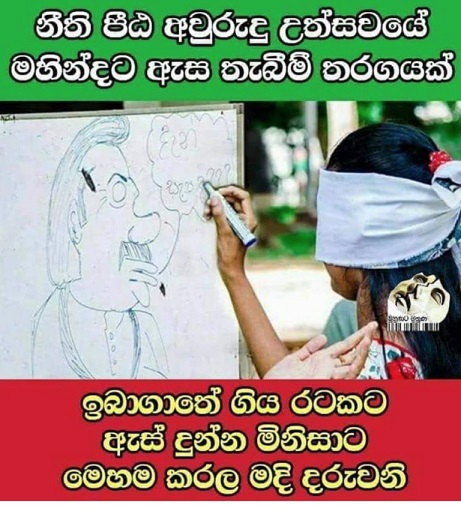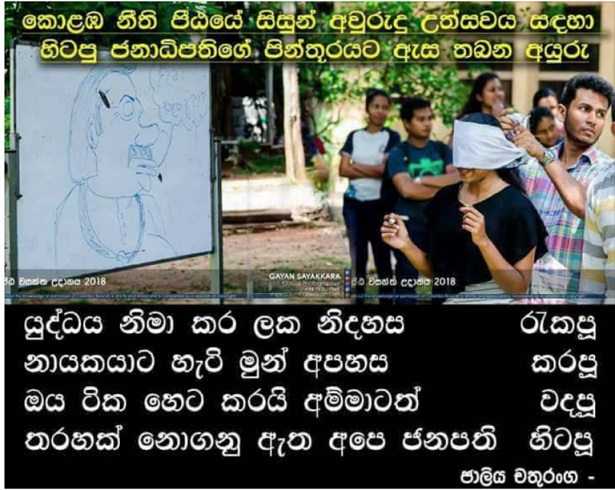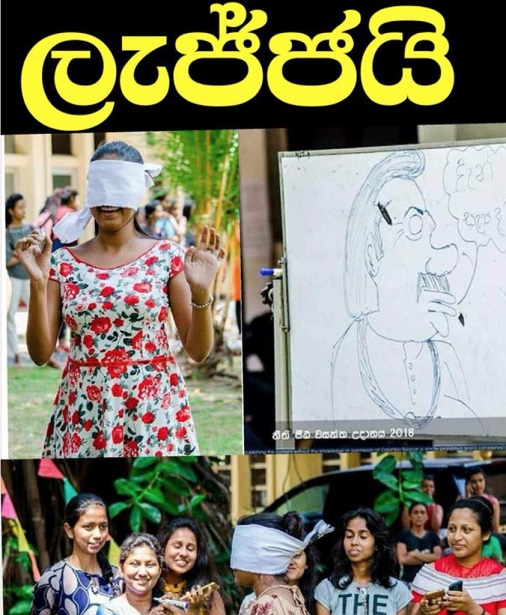 Shenali D Waduge